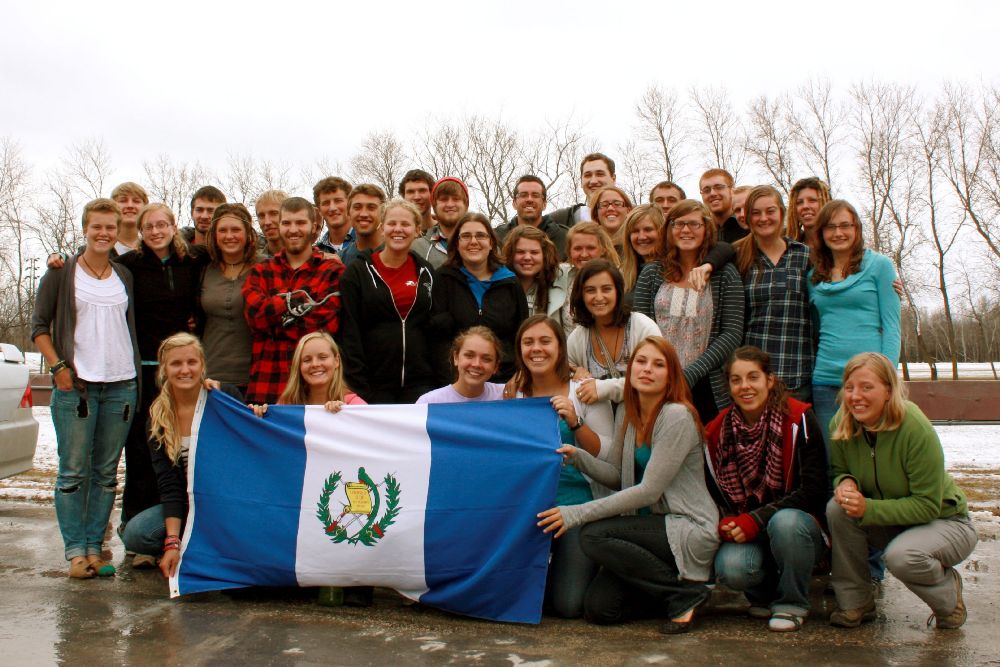 "Change was evident in each one of our students – change that went deeper than the tans and the smiles on their faces," says Paul Kroeker, Dean of International Programs and Outtatown Director. "These students had been challenged deeply as they encountered beauty and brokenness in so many different ways along their journey. It was evident in their eyes as they began to share what they had learned and experienced."
On the days following their arrival back in Manitoba, the teams and leaders took time to debrief and share their experiences.
"Their eyes glistened as stories began to pour out of them, sharing insights which had transformed them on this journey. They had stayed with families who lived in houses smaller than their bedroom back home, but who hosted them in that humble setting with love, joy, and acceptance," says Kroeker. "This had been very moving to receive and experience. They saw extremes in wealth and poverty, and knowing which group they were in, had to ask some profound questions about international justice and the basic question that was once asked of Jesus, "and who is my neighbour?"
Kroeker notes that, for most of the Outtatown students, Christian community was the most significant part of the journey. It helped to define the transformational learning that had taken place. Within the context of a well mentored experience, each student had been challenged to new levels of self-acceptance, and accountability. "They had learned to deal with the issues of beauty and brokenness within, just as they were dealing with similar issues in the world around them," says Kroeker. "This combination gave hope that the change was not superficial, nor momentary, but something which they would continue to process in the years to come."
Graduation on Sunday, April 17 concluded the program's debriefing process and gave opportunity for a celebration of learning and achievement. In addition to students and leaders, countless ministry partners across Canada, in Guatemala, and in South Africa were part of the journey.
"Through stories, music and in the spirit of the place, God's grace and goodness was celebrated by parents and friends who came to the graduation," says Kroeker. "They had been part of a large prayer support network throughout the year, and wanted to be part of the process as one story of transformation came to its conclusion, and the next story of God's grace would begin.
The Outtatown Discipleship School is a unique and enriching program for students seeking a life-changing experience of adventure, travel, service, and Christian studies.
Outtatown's mission is to inspire and nurture students in their life of discipleship with Jesus Christ… in a journey towards: Knowing God in truth and relationship; Knowing yourself in personality, character, abilities and gifts; Knowing the world in its beauty, diversity and pain. Outtatown offers two-semester programs at site locations in Guatemala and South Africa, for which students may earn up to 18 credit-hours, and new in Fall 2011, a one-semester program with a French Africa site location.
Canadian Mennonite University (CMU) is a Christian university in the Anabaptist tradition, offering undergraduate degrees in arts and science, and such disciplines as business and organizational administration, communications and media, peace and conflict resolution studies, music and music therapy, theology, and church ministries, as well as graduate degrees in Theological Studies and Christian ministry. CMU is a Member of the Association of Universities and Colleges of Canada (AUCC). Located in Manitoba, CMU has over 1,700 students at its Shaftesbury Campus in Southwest Winnipeg, at Menno Simons College in downtown Winnipeg, and enrolled through Outtatown.
For information, contact:
Nadine Kampen
Communications & Marketing Director
Tel. 204.487.3300 Ext. 621
nkampen@cmu.ca
Canadian Mennonite University
500 Shaftesbury Blvd.
Winnipeg, MB R3P 2N2