The fun is officially under way this week as CMU Sports Camps kicked off their summer programming.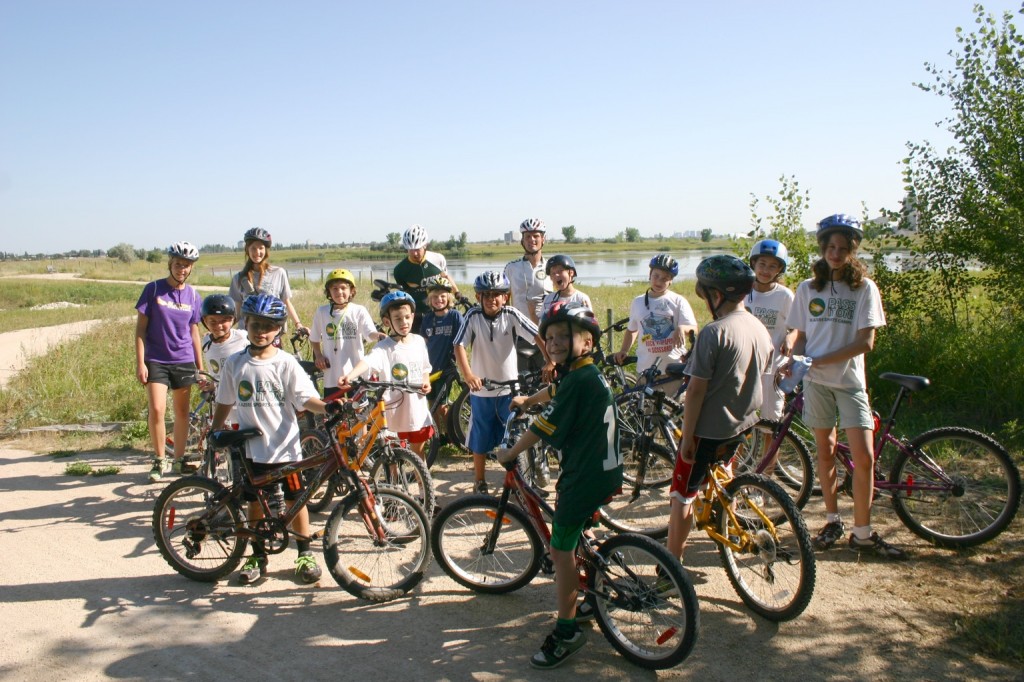 The bike campers have been 'spinning their wheels' at the inaugural Blazer Bike Camp, learning safety and maintenance tips, all while touring the scenic trails of the Assiniboine Forest to such destinations as the Children's Garden at Assiniboine Park and Fort Whyte Alive. Later in the week, working with Instructor Thomas Epp, the bike campers tested their new skills on CMU's cyclocross challenge course.
"Afternoon campers have learned new skills and been challenged with a multitude of sports," says CMU Athletics Director Russell Willms. "Beach volleyball, kick-ball, soccer, basketball, and dodgeball are just some of the sports that have been highlighted." Of course, the greatest daily challenge has been "Win it in a Minute," based on the popular television game show and organized by CMU summer camp co-directors Maraleigh Short and Evelyn Kampen.
Next week Junior High Campers will take over the gymnasium to develop their skills and meet new friends at our volleyball and basketball camps. Current CMU athletes Clare Schellenberg and Jacob Miller are two of the talented coaches that will work with these aspiring, young athletes. High Performance Evening Basketball camp for Senior High begins next Monday night. This camp hopes to work more closely with young athletes to refine skills and get plenty of practice with a smaller group that allows for more individual coaching.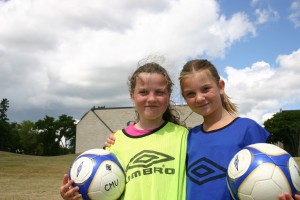 Our final week of camp features Senior High Volleyball and Basketball day camps and an evening High Performance Volleyball camp. Day Campers will enjoy the fun of volleyball and basketball, while practicing their skills in a supportive yet competitive environment. Our "Pass It On" camp theme will be a significant part of camp, challenging campers to make a difference in the places they find themselves. High Performance Camps feature two of our CMU Blazers varsity coaches, Andrea Charbonneau and Mark Kliewer.
Spaces are limited, but it is not too late to get in on the fun! Email SportsCamps@cmu.ca to ask about registration or phone 487-3300 for more information.
Competing in the Manitoba Colleges Athletic Conference, CMU plays in a league comprised of nine universities and colleges in Manitoba and Minnesota. CMU is also a member of the Association of Christian College Athletics(ACCA). CMU Blazer teams compete in soccer, volleyball, and basketball from September to March, playing MCAC league games as well as a number of tournaments with universities and colleges in Canada and the US.
Canadian Mennonite University (CMU) is an accredited Christian university offering undergraduate degrees in the arts, music, music therapy, theology, and church ministries, and master degrees in theological studies and Christian ministry. CMU is a member of the Association of Universities and Colleges of Canada (AUCC) . Located in Winnipeg, Manitoba, CMU has over 1,700 students at its Shaftesbury Campus in Southwest Winnipeg, at Menno Simons College in downtown Winnipeg, and enrolled through Outtatown, CMU's adventure and discipleship program.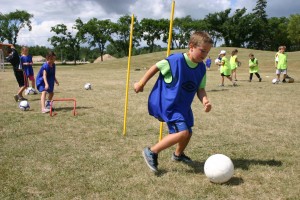 Visit athletics.cmu.ca
For Sports Camp or Blazer Athletics information, contact:
Athletics Director Russell Willms – rwillms@cmu.ca
For CMU information and photographs, contact:
Communications and Marketing Director Nadine Kampen – nkampen@cmu.ca
Tel. 204.487.3300, Toll free 877.231.4570
Canadian Mennonite University
500 Shaftesbury Blvd. Winnipeg, Manitoba, Canada R3P 2N2