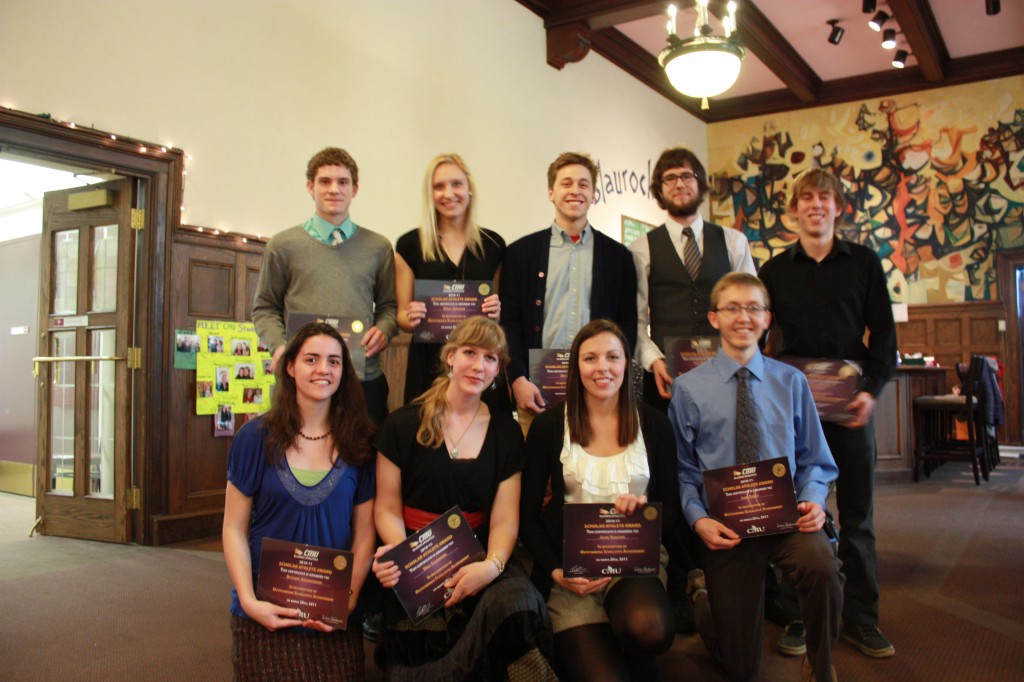 72% of Athletes Earn "Scholar –Athlete" Title
Members of the CMU varsity athletics teams recently gathered to celebrate the accomplishments of 2010-2011 – a year that saw the Blazers achieve some new personal bests. At a banquet held March 20 to recognize annual athletic achievements, most worthy of note was the academic performance of the current team of CMU athletes.
"We were pleasantly surprised to see our current group of student-athletes achieve an even higher academic performance than last year," raved CMU Director of Athletics Russell Willms. "In 2010, we recognized 69% of our team members for achieving the title of "Scholar-Athlete" as instituted by the MCAC for student-athletes that achieve a grade point average of 3.0 or higher. We led the conference last year with that total, and I would hasten to guess that we will do the same in 2011."
This year, 54 of 75 CMU student athletes achieved Scholar-Athlete recognition, improving to 72%. "This statistic is very worthy of recognition," said Willms, who informed guests that the national average of scholar athletes recognized by colleges and universities across Canada is approximately 24%. "This shows that CMU student-athletes are applying themselves whole-heartedly to their studies and finding success in the classroom. It is something that we are truly proud of."
The Blazers formally recognized 11 student-athletes that achieved a GPA of 4.0 or higher – a true standard of academic excellence.
Other major award winners were Evelyn Kampen and Todd Reimer, who were recognized as the female and male Athletes of the Year for their outstanding performances on the CMU volleyball teams.
Carrera Lamoureux and Wyatt Anders were honoured as female and male Rookies of the Year, for their contributions to the CMU basketball teams in their first seasons. Nina Schroeder of the women's basketball teams was recognized for a second-consecutive year with the Trailblazer Award, recognizing excellence in team leadership and community service.
Competing in the Manitoba Colleges Athletic Conference , CMU plays in a league comprised of nine universities and colleges in Manitoba and Minnesota. CMU is also a member of the Association of Christian College Athletics (ACCA). CMU Blazer teams compete in soccer, volleyball, and basketball from September to March, playing MCAC league games as well as a number of tournaments with universities and colleges in Canada and the US.
Canadian Mennonite University (CMU) is an accredited Christian university offering undergraduate degrees in the arts, music, music therapy, theology, and church ministries, and master degrees in theological studies and Christian ministry. CMU is a member of the Association of Universities and Colleges of Canada (AUCC) . Located in Winnipeg, Manitoba, CMU has over 1,700 students at its Shaftesbury Campus in Southwest Winnipeg, at Menno Simons College in downtown Winnipeg, and enrolled through Outtatown, CMU's adventure and discipleship program.
Visit www.cmu.ca/blazers
For Blazer information, contact:
Athletics Director Russell Willms – rwillms@cmu.ca
For CMU information and photographs, contact:
Communications and Marketing Director Nadine Kampen – nkampen@cmu.ca