CMU Chamber Choir, CMU Singers Performing on Tour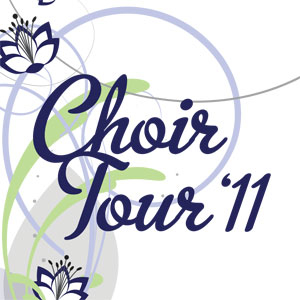 Choral music lovers in Manitoba, Saskatchewan, Alberta, Ontario, and parts of the United States have an opportunity this April to participate in worship concerts provided by Canadian Mennonite University's (CMU) talented choir ensembles during year-end performance tours.
During its April 2011 tour, the 18-voice CMU Chamber Choir, under the direction of CMU Assistant Professor of Music Janet Brenneman, will visit churches and schools in North Dakota, Minnesota, Ontario, and Manitoba.  CMU's Cheryl Pauls, Associate Professor of Music, will accompany the tour as a guest speaker.
The CMU Singers, a 37-voice choir under the direction of CMU Associate Professor of Music Rudy Schellenberg, will visit schools and churches in Manitoba, Saskatchewan, and Alberta. Guest speaker, CMU Vice-President (External) Terry Schellenberg, is travelling with the Singers.
"Martin Luther's statement, that 'next to theology there is no art which is the equal of music,' frames the discipline and art of music-making at CMU," says CMU Dean of Music Dietrich Bartel. "It is with great delight that we are able to send two of our choirs on the road, giving us an opportunity to share some aspects of CMU's art of music-making with the broader community."
Bartel notes that approximately a quarter of CMU students, though coming from a wide variety of disciplines and degree programs, are involved in one or another form of musical activity at CMU: singing in one of CMU's five choirs, playing in instrumental ensembles, participating in music dramas, being involved in worship bands, or taking individual applied lessons.
The CMU Choirs are auditioned, mixed ensembles whose members are selected for their high levels of vocal proficiency.  Each year, CMU choirs study and perform a challenging body of choral repertoire chosen from a variety of genres and styles, providing opportunity for advanced students to strengthen and increase their musicianship. CMU choirs perform regularly in concert and in worship throughout Manitoba and on yearly tours across Canada and Northern U.S.A.
In addition to tour performances, CMU choirs collaborate and perform with the Winnipeg Symphony Orchestra at its internationally recognized New Music Festival, most recently performing the Canadian premiere of The Seven Gates of Jerusalem by the contemporary Polish composer Krzysztof Penderecki.
Chamber Choir Conductor Janet Brenneman, a native of Ontario, holds a Ph.D. in Music Education from Michigan State University.  Brenneman has conducted choirs at all levels in Ontario, Michigan, and in Manitoba, and is also a conductor for Pembina Trails Voices, where she works extensively with boys' choirs.
CMU Singers Conductor Rudy Schellenberg teaches in the areas of choral music, conducting, and church music.  In addition to choral and orchestral study and conducting at Nordwestdeutsche Musikakademie, Detmold, Germany, Schellenberg did his doctoral studies in Choral Conducting at the University of Cincinnati.  He also co-conducts the 100-voice Mennonite Festival Chorus that performs regularly with the Winnipeg Symphony Orchestra.
Since opening in 2000, CMU has continued to build on the venerable musical legacy of two of its founding colleges, Concord College (MBBC) and Canadian Mennonite Bible College. In addition to continuing those strong programs in choral music, music performance, and music ministry, CMU's music education program is attracting an ever increasing number of students, as is the unique CMU Music Therapy program. Through all of these activities and programs, lives of students are being transformed through and with music, as they are being nurtured to transform the lives of others through this gift of God.

Chamber Choir Tour
Monday, April 18 | 7 PM
Lakeview Mennonite Church
4635 78th St • Wolford, ND
Tuesday, April 19 | 7 PM
Strawberry Lake Mennonite Church
33068 County Highway 34 • Ogema, MN
Wednesday, April 20 | 7 PM
Rainy River Evangelical Covenant Church
303 Broadway Ave • Rainy River, ON
Thursday, April 21 | 7 PM
Maundy Thursday Service
First United Church
23 Van Horne Ave • Dryden, ON
Friday, April 22 | 7 PM
Red Lake Mennonite Church
100 Hammell Rd. • Red Lake, ON
Saturday, April 23 | 7 PM
Grace Mennonite Church
430 Third St  • Steinbach, MB
Sunday, April 24 | 10:30 AM
River East MB Church
755 McLeod Ave  • Winnipeg, MB

CMU Singers Tour

Monday, April 18 | 7 PM
Brandon, MB
Grace Mennonite Church
Tuesday, April 19 | 7:30 PM
Joint concert with Rosthern Junior College
Osler, SK
Osler Mennonite Church
Wednesday, April 20 | 7 PM
Coaldale, AB
Coaldale MB Church
Thursday, April 21 | 7 PM
Lethbridge, AB
Lethbridge Mennonite Church
Friday, April 22 | 10 AM
Calgary, AB
Bethany Chapel
Saturday, April 23 | 10 AM
Edmonton, AB
Lendrum MB Church
Saturday, April 23 | 7 PM
Edmonton, AB
First Mennonite Church
Sunday, April 24 | 10:30 AM
Edmonton, AB
Lendrum MB Church
Canadian Mennonite University (CMU) is a Christian university in the Anabaptist tradition, offering undergraduate degrees in arts and science, business and organizational administration, communications and media, peace and conflict resolution studies, music and music therapy, theology, and church ministries, as well as graduate degrees in Theological Studies and Christian Ministry.  Located in Manitoba, CMU has over 1,700 students at its Shaftesbury Campus in Southwest Winnipeg, at Menno Simons College in downtown Winnipeg, and enrolled through its Outtatown discipleship program. CMU is a Member of the Association of Universities and Colleges of Canada (AUCC).
For information, contact:
Nadine Kampen
Communications & Marketing Director
nkampen@cmu.ca; Tel. 204.487.3300 Ext. 621