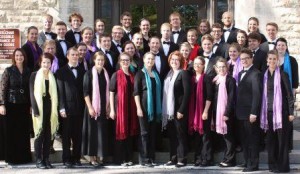 April 23, 2012 – With the spring academic term over, the CMU Singers are wrapping up their time together by embarking on a final one-week tour, with seven performances scheduled for their April 24 to April 29 tour.
This year's tour will see the singers going east to communities in Indiana and Ontario. Last year's tour destinations for the CMU Singers included Manitoba, Saskatchewan, and Alberta.
Conductor of the CMU Singers is Dr. Janet Brenneman, CMU Assistant Professor of Music. Also travelling with the tour as a guest speaker for congregations is CMU's Dr. Dan Epp-Tiessen, Associate Professor of Bible.
"This year-end tour is a wonderful way for our students to finish off another year of hard work, and to share their efforts with the broader community," says Brenneman. "We appreciate this special commitment that our students make to share their music with our church families in other regions. The tour provides a chance for choral music lovers to participate in worship concerts put on by our exceptional choir ensembles."
The CMU Choirs are auditioned, mixed ensembles whose members demonstrate high calibre talent and strong vocal proficiency. Each year, CMU choirs study and perform a challenging body of choral repertoire chosen from a variety of genres and styles, providing opportunity for advanced students to strengthen and increase their musicianship. The groups perform regularly in concert and in worship throughout Manitoba, and embark on yearly tours such as this, across Canada and Northern U.S.A.
"Choir tours are one of the ways that we like to connect with CMU friends and alumni across Canada and the United States," says CMU Church and Alumni Relations Coordinator Eleonore Braun. "Through these tours, we look forward to meeting new people, renewing friendships, and worshipping together.
CMU Singers 2912 Tour Schedule
April 24 | 7:00 PM
Eighth Street Mennonite Church
602 S 8th St, Goshen, IN
April 25 | 7:30 PM
Floradale Mennonite Church
22 Florapine Rd, Floradale, ON
April 26 | 7:30 PM
Grantham MB Church
469 Grantham Ave, St. Catharines, ON
April 27 | 7:00 PM
Worshipping together with MCEC conference
United Mennonite Educational Institute
614 Mersea Road 6, Leamington, ON
April 28 | 6:45 PM
Concert and Desert Fundraiser
United Mennonite Educational Institute
614 Mersea Road 6, Leamington, ON
Please RSVP to Sheryl Penner 877.231.4570 or email shpenner@cmu.ca by April 16.
April 29 | 9:45 AM
Leamington United Mennonite Church
78 Oak St E, Leamington, ON
April 29 | 7:00 PM
Waterloo North Mennonite Church
100 Benjamin Rd, Waterloo, ON