(Via Canada's Economic Action Plan News Release)
WINNIPEG, MANITOBA – Today, the Honourable Steven Fletcher, Minister of State (Transport) and Member of Parliament for Charleswood—St. James—Assiniboia, on behalf of the Honourable Lynne Yelich, Minister of State for Western Economic Diversification, announced support for Canadian Mennonite University (CMU) under the Harper Government's Community Infrastructure Improvement Fund (CIIF).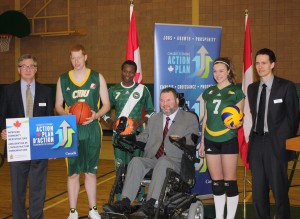 "I am proud to see Canadian Mennonite University benefit from our Government's support for local infrastructure," said Minister Fletcher. "Investments such as this highlight our Government's commitment to create jobs, growth and long-term prosperity of Winnipeg and all Canadian communities for many years to come."
The Harper Government's investment of $8,262 has allowed Canadian Mennonite University to resurface the flooring in its gymnasium. The renovations are not only benefitting CMU students, but also over 40 community groups who use this highly-booked recreational venue in south-west Winnipeg.
"Canadian Mennonite University (CMU) acknowledges the critical role that student athletic involvement plays in building character, community and engagement within our university life," said Terry Schellenberg, CMU Vice President, External. "We are deeply grateful for the funding provided through the Federal Government's Community Infrastructure Improvement Fund to enhance our athletic facilities. A refurbished gymnasium floor will be of immense benefit to our students and the many teams and groups from the broader community who use our athletic facilities."
In Economic Action Plan 2012, the Harper Government announced further support to help communities across the country modernize their infrastructure. Our Government committed $150 million over two years for the Fund. The Fund supports projects that look to improve existing community infrastructure accessible for use by the public, such as community centres, recreational buildings, local arenas, cultural and other community facilities.
Since 2006, the Harper Government, through WD, has invested in job-creating, small- and medium-sized businesses, aerospace, marine and defence industries, and supported innovative entrepreneurs in pursuing emerging markets. By continuing to promote new economic opportunities, WD is helping to create jobs, economic growth, and long-term prosperity.