'The great adventure we get to be on is following Jesus,' speaker says
How do we practice peace and justice in our daily lives? That was the question acclaimed activist Shane Claiborne explored at Peace It Together (PIT) 2013, Canadian Mennonite University's (CMU) conference for youth focusing on biblical and Anabaptist themes of peace.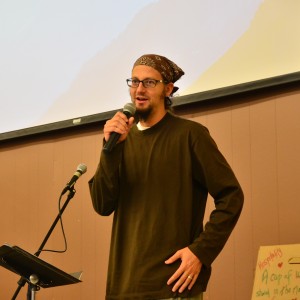 Over the course of three worship sessions, Claiborne challenged the more than 100 youth, youth sponsors, and pastors from across Canada who gathered at PIT to see that being a Christian isn't about what happens to us in the afterlife, but rather, it's about the way we spend our time on Earth.
"Jesus didn't come just to prepare us to die, but to show us how to live," Claiborne said.
Claiborne, author of a number of books, including The Irresistible Revolution: Living as an Ordinary Radical, told stories from his various ministry experiences, including working with Mother Teresa in Calcutta, India; a trip with a Christian Peacemaker Team to Iraq in 2003; and living with The Simple Way, a community he helped start in Philadelphia's Kensington neighbourhood.
He told listeners that there are a variety of ways to pursue peace and seek justice in their daily lives, and that everyone is invited to do something with their gifts that contributes to the redemptive work God is doing in the world.
He added that ultimately, more important than what you do or accomplish in this life is who you are becoming as a child of God.
"In the end, the great adventure we get to be on is following Jesus," Claiborne said.
On Saturday afternoon, youth participated in a variety of different workshops to put into action the things they learned from Claiborne.
Youth had the option to visit a L'Arche community; visit Cedar Lane Farm, an organic farm located in a house-barn in rural Manitoba; spend the afternoon at Neechi Commons, a supermarket, bakery, and fish market in Winnipeg's North End that fosters neighbourhood revitalization; visit House Blend Ministries, an intentional community in downtown Winnipeg; build instruments; or create and distribute a broadsheet newspaper with recent news stories rewritten from the perspective of peace
PIT also included times for small group reflection; opportunities to play sports or create art; and social events like square dancing, karaoke, and a talent show.
Robbie Friesen, a Grade 12 student from Vineland, ON., said the conference gave him a new understanding of what it means to be a disciple of Christ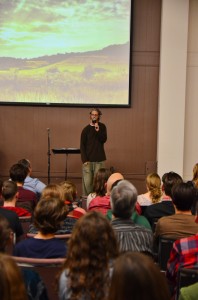 "When Jesus said, 'Give up everything and follow me,' there are different ways you can look at that," said Friesen, 17, who traveled to Winnipeg with his youth group from Vineland United Mennonite Church. "I'll definitely remember Shane's stories of active peace and following Jesus."
Hannah Thiessen, a Grade 11 student from Cambridge, ON., agreed.
"Shane makes it easy to wrap your brain around actually doing these things," said the 15-year-old, from Wanner Mennonite Church. "I hope that I can act on what I've learned and contribute to my community in some way."
Lois Nickel, Director of Enrolment Services at CMU and one of PIT's organizers, said that was the goal of the conference.
"We wanted to show youth that you can live out peace wherever you are," Nickel said. "We hope youth pastors and leaders will be taking ideas and inspiration from this weekend to go and try new things with their youth groups."
CMU will host the next Peace It Together youth conference in October 2015.