As one might expect from an English professor, Sue Sorensen is someone who spends a lot of time with books. The following is a run-down of what's on her summer reading list right now:
Right now I'm reading: Bobcat, and Other Stories by Rebecca Lee, a brand new award-winning book of fiction by a writer who grew up in Regina, where I lived for many years. Her short stories are wonderfully original and surprising, and perfect examples of the well-structured tale.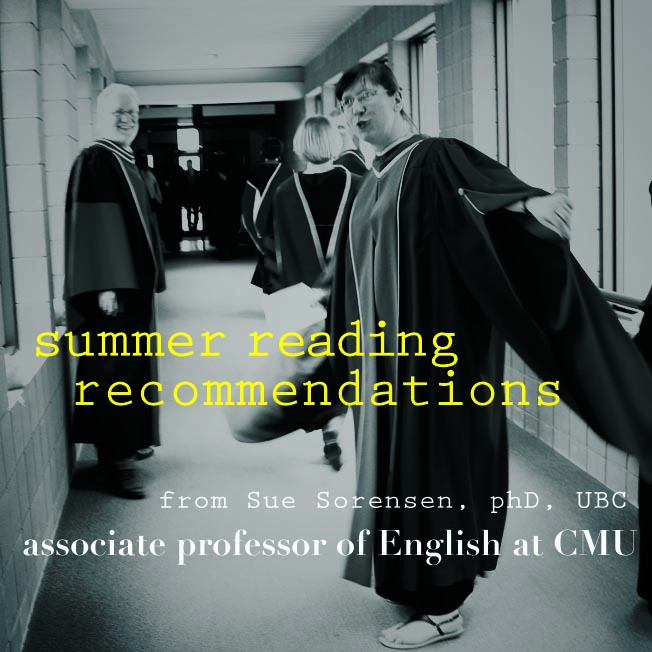 I Just finished: Marilynne Robinson's novel Gilead, a beautiful and gentle book about a 1950s pastor in Iowa. Nearly every page shimmers with compassion and deep insight. (It's part of my research on pastors, for a study of literary pastors I'm writing called The Collar, but it's also just lovely to read.) Here's my favourite humourous line from Gilead about being a pastor: "So often people tell me about some wickedness they've been up to, or they've suffered from, and I think, Oh, that again!"
Just for fun I'm reading: The 1960s mysteries of Florida writer John D. MacDonald. They are much smarter than your average thriller, and MacDonald always had a mad on about something – corporate greed, or the destruction of the environment. His detective, Travis McGee, is a great character. The Travis McGee novels all have a colour in the title; right now I'm reading Pale Gray for Guilt.
With my son: I'm reading the Percy Jackson and the Olympians novels with my son Theo, who is 10, getting ready for the new movie Percy Jackson and the Sea of Monsters coming out on August 7. They are clever and funny books with lots of great material for kids about Greek myth.
Not so much: Earlier this summer on holiday I read a biography of the lead singer of the Foo Fighters, Dave Grohl, called This is A Call by Paul Brannigan. I like Grohl a lot, but the book was only so-so.
I'm re-reading: The novels of Graham Greene. I just finished Our Man in Havana (about Cuba before the revolution) and am starting The Comedians (set in Haiti in the 1960s). I read these years ago, but this summer my husband and I are both working our way through them again and then watching the movies based on them. Greene was a great writer – his books are both clever and entertaining, and he was so unassuming about his cleverness.
Professor Sorensen's interests extend from 19th and 20th century British literature—her core area of specialization—to film adaptations of literature and the examination of popular song lyrics as poetry. Her doctoral dissertation was "Verbal and Visual Language and the Question of Faith in the Fiction of A. S. Byatt." A member of the Henry James Society and the George Eliot Fellowship, she also has research interests in Guy Vanderhaeghe and children's literature.
Prior to coming to CMU, Professor Sorensen taught English at University of Western Ontario and University of Winnipeg. She also worked in the field of publishing. Stay tuned for when her book on representations of the clergy in fiction and film will be published.