Canadian Mennonite University celebrates end of fiscal year costs covered by student tuition fees
"Tuition Freedom Day has become a wonderful way for CMU students to celebrate and express their appreciation to the government, church constituencies, and individual donors for the valuable contributions they have make to their education," said Marilyn Peters Kliewer, Dean of Student Life at CMU. "Students realize this financial support helps make their post-secondary education a possibility!"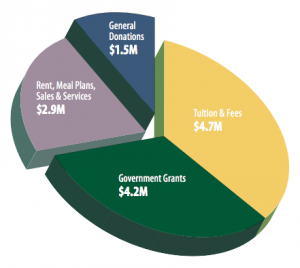 CMU's Tuition Freedom Day was established in 2007, inspired by a similar event held at Goshen College in Indiana. This recurring date in November marks the end of the fiscal year paid for by student tuition, and the beginning of the year covered by grants and donations from government, church groups, and individual donors.
"The tuition fees students pay  only go so far, and celebrating Tuition Freedom Day acts as a reminder for us," said Amber Neufeld, Vice President Activities for CMU Student Council. "A lot of students don't really know that their tuition only covers a portion of the costs, and this event is a great opportunity to acknowledge our generous donors and put a face to who is donating to CMU."
Tuition Freedom Day will take place on Nov. 25 from 11:30 AM to 12:00 PM at the CMU Chapel at 600 Shaftesbury Boulevard.
Curtis Nordman (Advanced Education's Chair of Council on Post-Secondary Education), Mary Anne Isaak (Pastor at River East Mennonite Brethren Church), and Terrell and Jenna Wiebe (CMU alumni) will present on behalf of this year's donors.