Winnipeg, April 3, 2013 – The eighth annual Verna Mae Janzen Music Competition at Canadian Mennonite University featured 24 competitors at its preliminary round of competition—the competition's biggest year yet.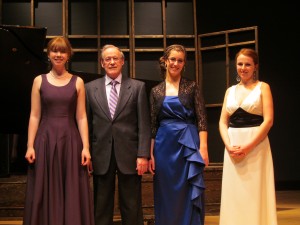 "It is incredibly exciting to see students' strong musical abilities and the results of their many hours of musical practice and dedication this competition highlights," says Janet Brenneman, Dean of the CMU School of Music. "The Verna Mae Janzen Music Competition is an excellent performance opportunity for our students. We are grateful for the generosity of Peter Janzen in establishing this competition."
Out of 24 initial competitors, eight students progressed to the final round of the competition. Those students were Josiah Brubacher, Kari Chastko, Stephanie Crampton, Rebecca Klassen-Wiebe, Catherine Richard, Jami Reimer, Jillian Reimer and Nathan Sawatzky-Dyck.
Catherine Richard, a second-year pianist, was awarded $700 and first place in the competition. Kari Chastko, a forth-year voice student, placed second and received $500.  Jillian Reimer, also a second-year pianist, came in third. She was awarded $300. All finalists are to be congratulated on their excellent performance at the final competition.
About 125 people attended the Verna Mae Janzen Music competition this year, held on March 21 at the Laudamus Auditorium.  The competition is made possible by Peter Janzen of Deep River, Ontario, and named in memory of his wife, Verna Mae, who died of cancer in 1989 at age 53.