Annual concert draws alumni, friends from across Canada
Canadian Mennonite University (CMU) invites the community to celebrate the start of Advent at its annual Christmas concert.
Christmas at CMU takes place on Saturday, November 29 at the university (500 Shaftesbury Blvd.). There are two concerts: one at 2:30 PM and the other at 7:00 PM. Admission for both concerts is free, and all are welcome to attend.
Rudy Schellenberg, Associate Professor of Music and one of the event's key organizers, is joyfully anticipating the concerts.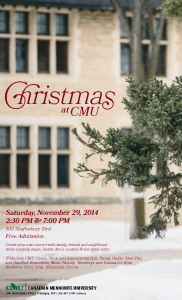 "One of the great things about Christmas at CMU is the mix of people," Schellenberg says. "I'm looking forward to the buzz created by the return of all these alumni and friends of CMU."
The concert will feature a handful of new features this year, Schellenberg adds.
Sue Sorensen, Associate Professor of English, will present A Christmas Home Companion at CMU, which consists of her telling a series of short stories recounting some of her childhood Christmas experiences. CMU music faculty will perform accompaniment.
Meanwhile, all children and parents are welcome to make music with Rebecca Harder, an instructor with CMU's Community School of Music and the Arts.
Recent additions to the program also include Dietrich Bartel, Associate Professor of Music, reading How the Grinch Stole Christmas, with CMU student Jesse Dollimont performing musical selections from the famed 1966 animated TV special to accompany him; a jazz guitar ensemble; a handbell ensemble; and percussionists playing steel drums.
More than 100 performers are involved in the event, which also features CMU choirs; vocal and instrumental jazz; flute and classical guitar ensembles; and performances by the university's music faculty.
Christmas at CMU is a multi-generational, interactive event that allows family, friends, and neighbours of all ages to mingle in CMU's beautiful heritage building.
Since it was first held more than 10 years ago, Christmas at CMU has become an important event on the university's calendar. Alumni and friends from Saskatchewan, Alberta, and even southern Ontario travel to Winnipeg to attend.
"It's a wonderful gift we give to our constituency at Christmas," Schellenberg says of the concert.
He adds that part of Christmas at CMU's appeal is that people who attend do not have to sit in the same spot for an hour-and-a-half.
Music ensembles will be stationed in different parts of the university, allowing attendees to create their own concert by walking around the festively decorated campus—all while enjoying hot apple cider and cookies.
"The concert is created for people like me who can't sit for very long," Schellenberg quips. "If you can't sit longer than 20 minutes, you can leave after 10 and go get a cookie."
For the complete Christmas at CMU schedule, please visit www.cmu.ca/christmas.
Immediately preceding Christmas at CMU, the public is invited to join students, staff, and faculty at the grand opening of Marpeck Commons, CMU's new library, learning commons, and bridge. Marpeck Commons will be open from 11:00 AM to 3:00 PM, with an official grand opening program starting at 1:30 PM and ending at 2:15 PM.
About CMU
A Christian university in the Anabaptist tradition, CMU's Shaftesbury campus offers undergraduate degrees in arts, business, humanities, music, sciences and social sciences, and graduate degrees in Theology and Ministry. CMU has over 1,600 students, including those enrolled in degree programs at the Shaftesbury Campus and in its Menno Simons College and Outtatown programs.
For information about CMU, visit: www.cmu.ca.
For additional information, please contact:
Kevin Kilbrei, Director of Communications & Marketing
kkilbrei@cmu.ca; 204.487.3300 Ext. 621
Canadian Mennonite University
500 Shaftesbury Blvd., Winnipeg, MB  R3P 2N2