'Light, entertaining' production the culmination of seven months of hard work
Canadian Mennonite University's Opera and Musical Theatre Workshop is proud to present The Merry Wives of Windsor.
Directed by David Klassen, the production will run for four shows: Thursday, March 5 through Saturday, March 7 at 7:30 PM, and Sunday, March 8 at 2:30 PM. The performances take place in the Laudamus Auditorium (500 Shaftesbury Blvd.). Tickets are $20 for adults and $15 for students, and available at CMU's main reception desk or at the door. Reserve by calling 204-487-3300.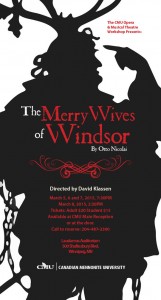 Written by the German composer Otto Nicolai, The Merry Wives of Windsor is a three-act opera based on William Shakespeare's comedic play.
After receiving identical love-letters from the repugnant Sir John Falstaff, Mrs. Alice Ford and Mrs. Meg Page play along with Falstaff's love affairs in order to expose and humiliate him.
While all this scheming is going on, the beautiful Anne Page has fallen for the handsome Fenton, but Dr. Cajus, a quick-tempered doctor, and Slender, a brown-nosing coward, fight for Anne's favour, while she finds both of them loathsome.
Somehow Anne has to get her happy ending with Fenton, even though Mr. Page promises Slender his daughter's hand in marriage, and Mrs. Page desires Dr. Cajus to marry her daughter.
"The story is light and entertaining, and the characters are extremely colourful," says Klassen, Instructor of Music at CMU. "It's a production that will be entertaining for nearly all age groups."
The four performances are the culmination of seven months of hard work for the more than 25 students enrolled in Klassen's Opera Workshop course.
The course gives students an understanding of how much energy and effort it takes to communicate when performing operatic works, and students learn how to work as part of an ensemble.
Klassen says the course is made accessible to students of all levels, and adds that this cast is one of the strongest he's ever worked with at CMU.
"My hope for this production is that students will walk away from the experience knowing that they have been held to the highest standard possible, and that they have created for themselves one of the most memorable experiences of their lives," Klassen says.
He adds that as a professional himself, he remembers every show he's ever been a part of.
"The cast becomes a family, and even within a university like CMU where community is a great focus, they build even stronger relationships through the preparation of something of this magnitude," Klassen says.
"I hope that my guidance inspires, and that they take what they've learned with them into every musical endeavour in the community, staged or not—the understanding that these relationships are meaningful, and that the hard work is more rewarding than they could imagine."
Opera Workshop students mount a full-scale production every second year. Past productions have included The Mikado, a comic opera by Gilbert and Sullivan, and Die Fledermaus, a German operetta by Johann Strauss II.
In the years in between, students present scenes from a variety of different works.
About CMU
A Christian university in the Anabaptist tradition, CMU's Shaftesbury campus offers undergraduate degrees in arts, business, humanities, music, sciences and social sciences, and graduate degrees in Theology and Ministry. CMU has over 1,600 students, including those enrolled in degree programs at the Shaftesbury campus and in its Menno Simons College and Outtatown programs.
For information about CMU, visit www.cmu.ca.
For additional information, please contact:
Kevin Kilbrei, Director of Communications & Marketing
kkilbrei@cmu.ca; 204.487.3300 Ext. 621
Canadian Mennonite University
500 Shaftesbury Blvd., Winnipeg, MB  R3P 2N2