What would it mean to turn the Kapyong Barracks into an urban reserve?
That's the key question Canadian Mennonite University's next Face2Face community discussion will explore. Titled, "On Being Good Neighbours: An Urban Reserve at Kapyong?," the event takes place on Thursday, March 5 at 7:00 PM in Marpeck Commons (2299 Grant Ave.). Admission is free, and everyone is welcome to attend.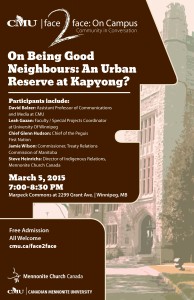 Participants in the discussion include Chief Glenn Hudson, Chief of the Peguis First Nation; Jamie Wilson, Commissioner for the Treaty Relations Commission of Manitoba; and Leah Gazan, Faculty/Special Projects Coordinator at University of Winnipeg and President of the Social Planning Council of Winnipeg.
David Balzer, Assistant Professor of Communications and Media at CMU, will moderate the event, which is being organized with the participation of Steve Heinrichs, Director of Indigenous Relations for Mennonite Church Canada.
Together, the participants will explore opportunities and practical challenges of an urban reserve at Kapyong Barracks.
The discussion will include treaty details, site vision, exploring possibilities, the current stumbling blocks, the concerns that some have raised, and a look at what it might mean to be good neighbours in this place.
Balzer believes this is an important conversation for CMU to host because the Kapyong Barracks are located less than three kilometres away from the university. Nearly everyone at the university drives past the barracks every day.
"It's a visual reminder of the question, 'How do we best use this land?'" Balzer says.
He adds that over the past few years, CMU has become increasingly interested in what it means to be good neighbours to Canada's First Nations community.
"We're trying to understand how to have a conversation around our history as a country, as a province, and as a city," Balzer says.
Formerly a Canadian Forces base, Kapyong Barracks was vacated in 2004. The Department of National Defence declared the 159-acre site, located on Kenaston Boulevard, surplus.
The Canadian government and four Manitoba First Nations are currently involved in a dispute regarding control of the land. According to a CBC report from January 2014, the First Nations argue that under a treaty land entitlement process, they are allowed to negotiate for federal property that has been declared surplus.
Gazan says she doesn't understand why the land isn't given to the First Nations.
"Nobody questions it when IKEA goes up, nobody questions the strip malls going up, there's no big community debate when we see new restaurants coming up, so why is this an issue?" she says.
Gazan adds that she is looking forward to delving into the topic on March 5.
"Any time you have people willing to come together to discuss these difficult issues, it's positive," she says.
Steve Heinrichs agrees.
"My hope is that we would be able to have a conversation about what some indigenous people are envisioning for that space—a conversation that would demystify and speak into some of the misconceptions about what an urban reserve is," he says.
Started in 2013, Face2Face is a series of conversations organized by CMU, designed to engage the community on a wide variety of current events and issues at the intersection of faith and life.
"On Being Good Neighbours: An Urban Reserve at Kapyong?" is the last of four Face2Face events CMU is hosting during the 2014-15 school year. For details, please visit www.cmu.ca/face2face.
About CMU
A Christian university in the Anabaptist tradition, CMU's Shaftesbury campus offers undergraduate degrees in arts, business, humanities, music, sciences and social sciences, and graduate degrees in Theology and Ministry. CMU has over 1,600 students, including those enrolled in degree programs at the Shaftesbury campus and in its Menno Simons College and Outtatown programs.
For information about CMU, visit: www.cmu.ca.
For additional information, please contact:
Kevin Kilbrei, Director of Communications & Marketing
kkilbrei@cmu.ca; 204.487.3300 Ext. 621
Canadian Mennonite University
500 Shaftesbury Blvd., Winnipeg, MB  R3P 2N2