Oil industry consultant, economist, and filmmaker featured on panel
Oil dependency is the focus of Canadian Mennonite University's (CMU) first Face2Face discussion of 2015-16.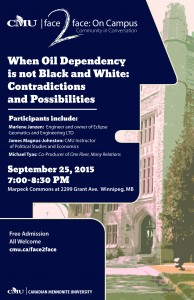 Titled "When Oil Dependency is Not Black and White: Contradictions and Possibilities," the event happens Friday, September 25 at 7:00 PM in Marpeck Commons (2299 Grant Ave.). Admission is free, and everyone is welcome to attend.
Face2Face is a series of conversations with CMU faculty, designed to engage the community on a wide variety of current events and issues at the intersection of faith and life.
From cell phones to clothing, and from wind turbines to automobiles, we are embedded in an oil dependent world. The September 25 discussion will explore questions such as: How do we respond to the complex realities of oil dependency in our lives? What choices lie before governments, industry, and before each of us as individuals? What kind of ethical framework can guide and assist us?
Moderated by David Balzer, Assistant Professor of Communications and Media, the event will feature three panelists:
Marlene Janzen – Engineer, owner of Eclipse Geomatics and Engineering LTD; focused on conceptual development studies, front end engineering, and preliminary estimates for remote onshore and arctic offshore oil and gas opportunities.
James Magnus-Johnston – CMU Instructor of Political Studies and Economics; research interests in ecological resilience, principally through the application of "steady-state" economic policies and carbon reduction strategies.
Michael Tyas – Managing editor of One River News; graduated from the University of Manitoba with an honours degree in environmental studies; a professional videographer and video trainer; produced the feature length documentary One River, Many Relations in Fort Chipewyan, AB to tell the stories of people living downstream from oil sands resource extraction.
Balzer says the goal is to have a conversation that draws out some of the complexities surrounding the topic of oil.
"To have someone who's an oil industry consultant with a deep concern for creation, together with an economist and a documentary filmmaker, feels like it will create a very interesting conversation with some expertise people don't always have available to them when they're discussing these issues," he says.
Magnus-Johnston says he wanted to be a part of the event because he believes everyone is personally responsible when it comes to fossil fuel use.
"Often we want someone to take responsibility for climate change, so we vilify fossil fuel companies or those working in the fossil fuel industry, but when you dig a little deeper, we all are, in fact, contributing to the problem," Magnus-Johnston says. "So, solutions are not so simple."
Balzer points out that rather than just being a presentation by the three panelists, the event is meant to be a conversation that includes audience members.
With any luck, the conversation will produce new insights.
"We're hoping we don't end up getting caught in a positional debate, but rather that we listen to the panelists, hear what they're saying, and perhaps look for the creative way forward that may not be present to any of us right now," Balzer says.
The discussion will be followed at 8:30 PM by an informal reception.
The evening marks the start of CMU's Fall Festival, a high energy weekend that features opportunities to connect, learn, play, and celebrate with the CMU Community. For more information about Fall Festival, visit www.cmu.ca/fallfest.
"When Oil Dependency is Not Black and White: Contradictions and Possibilities" is the first of four Face2Face events CMU will host during the 2015-16 school year. For details, visit www.cmu.ca/face2face.
About CMU
A Christian university in the Anabaptist tradition, CMU's Shaftesbury campus offers undergraduate degrees in arts, business, humanities, music, sciences, and social sciences, as well as graduate degrees in theology, ministry, peacebuilding and collaborative development, and an MBA. CMU has over 800 full-time equivalent students, including those enrolled in degree programs at the Shaftesbury and Menno Simons College campuses and in its Outtatown certificate program. 
For information about CMU visit www.cmu.ca.
For additional information, please contact:
Kevin Kilbrei, Director of Communications & Marketing
kkilbrei@cmu.ca; 204.487.3300 Ext. 621
Canadian Mennonite University
500 Shaftesbury Blvd., Winnipeg, MB  R3P 2N2