Asking questions and being faithful central themes as Dr. Henry Janzen visits CMU
The importance of community, asking questions, collaborating, and trusting God were key themes as Dr. Henry Janzen visited Canadian Mennonite University earlier this month as the university's first-ever Scientist-in-Residence.
Janzen, a research scientist in soil biochemistry at the Agriculture and Agri-Food Canada research centre in Lethbridge, AB, was on campus February 2-6.
He shared his insights, observations, experience, and personal reflections in a number of speaking events including a student forum, chapel, and lecture.
While sharing his faith story during a Tuesday morning chapel gathering, Janzen told students, faculty, and staff how he grew up as a timid farm boy ensconced in the church: "two robust sermons on Sundays, bolstered by Sunday and Saturday school" allowed him to grow in his faith.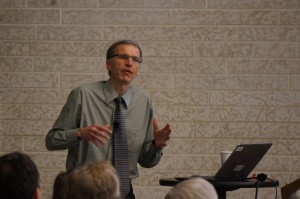 As he left home to study and advanced in his education, Janzen's questions—and his once-simple faith—became more complex. The words of the disciple Thomas echoed in his mind: "Lord, I don't know where you are going, so how can I know the way?"
Janzen went on to share that studying the story of Thomas has helped him see that questions are "not a peril, but a treasure."
He added four things that he has learned during a lifetime of questioning: exploring questions is best done with other people; asking questions demands honesty and precise phrasing; the questions that hound him are often shared by others; and that Anabaptism compels him to test his "faith hypotheses in the experiment of daily dilemmas."
Janzen then quoted T.S. Eliot: "We shall not cease from exploration / And the end of all our exploring / Will be to arrive where we started / And know the place for the first time."
"That's what I live for, my all-consuming hypothesis," Janzen said. "That the end of all my exploring will find me nearing home again, forgiven, quickening, re-awakening in the will and wake of One who all this time has been urging me home, steering me with the questions."
In addition to sharing his faith story, Janzen gave a public lecture on February 4, titled, "Following Carbon Flows Through Life and Times." Janzen provided an overview of the carbon cycle and the way its flows connect all species in a planet-wide continuum. He also explored some questions that emerge: questions relevant to all of us, enfolding interwoven strands of science, of ethics, and ultimately, of hope.
The following evening, Janzen participated in the latest installment of "Germinating Conversations," an ongoing series of dialogues that brings together people from urban and rural locations to discuss faith, food, farming, and land from a range of perspectives.
During his time at CMU, Janzen lived in the university's residence and ate in the cafeteria, where he eagerly interacted with students.
He also made presentations about his work in two biology classes.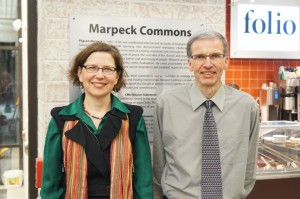 Dr. John Brubacher, Assistant Professor of Biology at CMU, said he greatly appreciated Janzen's visit and the fresh perspectives he brought to campus.
"He's a soil chemist but he speaks like a poet," Brubacher said. "He's got a great way of communicating and a deep humility that make him very accessible and approachable."
Dr. Tim Rogalsky, Chair of the Science and Faith Advisory Committee, which was responsible for organizing Janzen's visit, agreed.
"Henry is an engaging speaker, and he offered a sense of hopefulness despite some of the doom and gloom surrounding issues of global environmental change," Rogalsky said. "It was a great week."
Janzen, a long-time CMU supporter whose three children were students at the university, described his time as Scientist-in-Residence as enlightening and energizing.
"I've had a real education here in a week," Janzen said, adding that being able to dialogue with faculty from a variety of disciplines, as well as students and members of the wider community, stretched his thinking.
"I'm very grateful for the privilege I've had here," Janzen said. "I'm coming away from (CMU) with a renewed gratitude for this place."
February 27, 2015 Update
[youtube]https://youtu.be/z4I18kDv56E[/youtube]