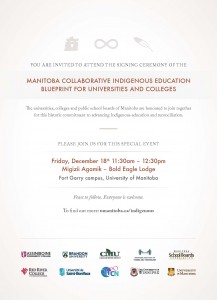 Manitoba's post-secondary institutions and school boards are working together to make our province a global centre of excellence for Indigenous education, research, languages and cultures. Together we have developed and committed to the Manitoba Collaborative Indigenous Education Blueprint, making excellence in Indigenous education a priority. Through this partnership, we are acting on the Truth and Reconciliation Commission of Canada's recommendations, and are taking steps that will advance reconciliation in Manitoba, and across Canada.
The Manitoba Collaborative Indigenous Education Blueprint is just the beginning of a conversation. We look forward to working with more partners and organizations on initiatives and programs that will advance Indigenous education that will translate into success for Indigenous students and families, and enhance the lives of all Manitobans.
Please join us Friday, December 18, 2015 as six universities, three colleges, and the Manitoba School Boards Association come together on Treaty One Territory and the homeland of the Métis Nation to sign the Manitoba Collaborative Indigenous Education Blueprint.

AGENDA
Emcees: Deborah Young, Executive Lead Indigenous Achievement, U of M and Wab Kinew, Associate Vice-President Indigenous Affairs, U of W
Elder Harry Bone
Honour Song – Justina McKay
Minister of Education and Advanced Learning, Hon. James Allum
David Barnard, President and Vice-Chancellor, U of M — Welcoming remarks on behalf of COPUM
Paul Vogt, President and CEO, Red River College
Ken Cameron, President, Manitoba School Boards Association
Student remarks
Signing ceremony with all Blueprint partners
Photo opportunity
Event closing
Feast to follow
For more information please contact Ruth Shead: ruth.shead@umanitoba.ca or 204-474-6747.