As a reporter for CHVN 95.1 radio, Matthew Veith is doing what he loves—storytelling.
Veith is responsible for seeking out local news stories, conducting interviews, writing pieces for CHVN's website, and reporting live. Through the stories he tells at CHVN, Veith says he has seen how God is working in many different places and ways.
"So many spaces we might have expected can be redeemed by God to do incredible stuff," he says. "God can do more than we can conceivably ask or imagine."
Using stories to invite listeners or readers to be a part of an event or opportunity is one aspect Veith enjoys about his job.
"It's very easy to dismiss something if it's simply being presented to you as fact," he says. "When something is presented to you in the form of a person, as a unique story, it's so incredible to experience that."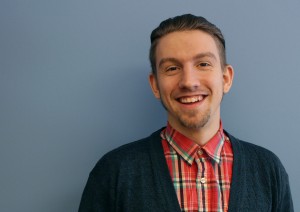 Veith graduated with a BA in Communications & Media from Canadian Mennonite University in 2013. He says his interest in graphic design and photography made a communications degree a logical choice.
"The degree is relatively open ended, but still gave me a lot of instruction broadly in terms of communication and media," he says.
During the course Media Workshop, Veith gained hands on experience in radio production. Along with fellow classmate Amy Davey, Veith hosted a radio program called Let's Talk as part of a class assignment.
"It introduced me to how incredibly rewarding, interesting, surprising, and humbling it would be to say 'I'm here to listen to what you have to tell me,'" he says.
Veith says CMU equipped him with the skills in how to work in radio and that having a BA makes a radio host an interesting interviewer. Having a degree provides the interviewer with a deeper understanding of the larger context within which radio programs operate, according to Veith.
"Doing a university degree gives you a sense of the greater reality of what radio is doing—the idea that media figures into the way that communities sustain themselves, the way public opinions are formed, the way that politics unfold," he says."
In all his communications work—Veith also works as a freelance graphic designer—Veith says he is regularly reminded of the importance of storytelling.
"There is nothing more true about communications than the need to keep telling stories," he says. "I see myself as a storyteller, bringing ideas to people, helping people see things that they might not have seen.
Note: As of early December, Veith has been lending his voice as the talk show host to the morning and afternoon drive shows due to staff transitions at CHVN. He aims to return to the news department in the near future.
Ellen Paulley is the Writer & Social Media Coordinator at Canadian Mennonite University