Annual 'create-your-own-concert' event features something for everyone
'Tis the season to be jolly, and Canadian Mennonite University wants you to join in the merriment at its annual Christmas at CMU concert.
The event takes place on Saturday, November 26 at the university (500 Shaftesbury Blvd.). There are two concerts: one at 2:00 PM and the other at 7:00 PM. Admission for both concerts is free, and all are welcome to attend.
Dr. Janet Brenneman, Dean of the CMU School of Music, is looking forward to the concerts.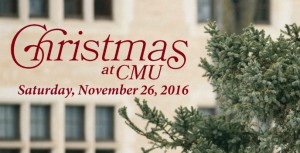 "I love how the CMU community comes together for this event," Brenneman says. "Many people's efforts go into this, and it really is representative of our entire CMU community."
More than 100 performers are involved in the event, which features CMU choirs; vocal and instrumental jazz; a classical guitar ensemble; and performances by the university's music faculty.
Christmas at CMU is a multi-generational, interactive event that allows family, friends, and neighbours of all ages to mingle in CMU's beautiful heritage building.
Part of the event's appeal is that people who attend do not have to sit in the same spot for an hour-and-a-half.
Music ensembles will be stationed in different parts of the university, allowing attendees to create their own concert by walking around the festively decorated campus—all while enjoying hot apple cider and cookies.
Now in its 16th year, this year's Christmas at CMU event will feature for the first time ever a Music Therapy Coffeehouse, where Music Therapy students will perform their own arrangements of classic holiday songs.
Meanwhile, there are a couple of items on the schedule specifically for children.
Dietrich Bartel, Associate Professor of Music, will read How the Grinch Stole Christmas in CMU's Faculty & Staff Lounge. Following that performance, children and parents are welcome to make music with CMU alumna Rebecca Harder.
"Christmas at CMU is a family-friendly event, with short little concerts and many opportunities to get up, move around, and enjoy some cookies," Brenneman says. "Plus, Father and Mother Christmas will be there."
Christmas at CMU will end with an audience carol sing in the Loewen Athletic Centre, an annual tradition that always culminates with everyone singing Handel's Hallelujah Chorus.
Since it was first held in 2001, Christmas at CMU has become an important event on the university's calendar. Alumni and friends from across Canada travel to Winnipeg to attend.
"I love that alumni come back to this event—it's a great place for them to connect," Brenneman says. "I also love seeing people from the community here. There's always some that are here for the first time, and that's fun."
For the complete Christmas at CMU schedule, please visit cmu.ca/christmas.
About CMU
A Christian university in the Anabaptist tradition, CMU's Shaftesbury campus offers undergraduate degrees in arts, business, humanities, music, sciences, and social sciences, as well as graduate degrees in theology, ministry, peacebuilding and collaborative development, and an MBA. CMU has over 800 full-time equivalent students, including those enrolled in degree programs at the Shaftesbury and Menno Simons College campuses and in its Outtatown certificate program.
For information about CMU visit www.cmu.ca.
For additional information, please contact:
Kevin Kilbrei, Director of Communications & Marketing
kkilbrei@cmu.ca; 204.487.3300 Ext. 621
Canadian Mennonite University
500 Shaftesbury Blvd., Winnipeg, MB  R3P 2N2