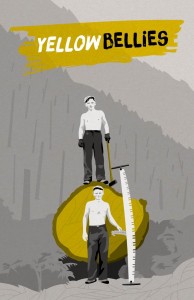 Three Canadian Mennonite University students are conducting research and assisting in the development of the upcoming Theatre of the Beat (TOTB) play, Yellow Bellies.
"TOTB creates thought-provoking and socially relevant theatre to raise awareness of or get people thinking about social justice issues," says Rebecca Steiner, TOTB General Director and Recruitment Coordinator at CMU. "This play will highlight the often forgotten stories of conscientious objectors during World War 2 and their contributions to Canada's development."
Jonas Cornelsen, Kayla Drudge, and Nadya Langelotz are researching the stories of conscientious objectors (COs) during the Second World War by reading archived material and conducting interviews to gather information about the time period. Their research is contributing to the play's development.
"The students' task is to research and share with us the interesting narratives, characters, and conflicts they find and help us think of how we can dramatize them," says Steiner.
For Drudge and Langelotz, their research and work on the play is a part of their practica, which they are completing through the Mennonite Heritage Centre Archives (MHCA). Additionally they are writing articles for the MHCA blog and transcribing archived video interviews. Cornelsen is assisting with conducting interviews and is recording them on video or audio as applicable.
The interviews include questions such as: why did you decide to become a CO? Did your church support you? If you went before a judge, what was your experience like? What was your experience like in the CO camp? How did this experience shape your life?
Part of Drudge's research focuses on music that was popular in CO camps.
"Guys would sing in a cappella, barbershop-like groups," says Drudge, who is pursuing a Bachelor of Music. "They would develop groups in CO camps, practice regularly, and go out to churches in the area to sing."
The play will incorporate live music with a gospel-bluegrass style similar to music common to this period. It will also feature a medley Drudge composed that includes O Canada and I'll Go Where You Want Me to Go, a hymn sung by some COs when homesick. The medley will be used to transition between a scene that reflects the experience of appearing before a judge to advocate for CO status and a scene in a CO camp.
Langelotz, who is pursuing a Bachelor of Arts, is working on one of the scenes and has enjoyed the opportunity to collaborate with TOTB on the play's development. The students have had opportunities to read the play as it's being developed and offer feedback on scene order and content.
"The play uses historically accurate info and stories but if we have a character in mind with a specific trait, we can put that in," says Langelotz. "We're adding our own creative flair. It's so neat to read it."
Her research has uncovered a wide range of experiences that COs had.
"There's huge varieties of different experiences—some had a great time and their time in court was easy to get CO status," says Langelotz. "Other stories were horrible—sent to prison—standing up for what they believed in but not getting status."
Langelotz says that those they've interviewed have expressed appreciation for the interest in their stories.