Andrew Dyck, Assistant Professor of Ministry Studies, has taught at CMU since January 2013. Prior to coming to CMU, Andrew worked as a pastor for 16 years in Abbotsford, BC.
What are you researching and writing right now?
I'm working to finish my doctoral dissertation this summer. I'm writing about the nature of Mennonite Brethren spirituality. I'm looking at 150 years of Mennonite Brethren history and asking what place spiritual direction or Taizé singing, and lectio divina—these so-called contemplative practices—have in a tradition that wouldn't normally have gone there, but that includes people who are finding those practices helpful.
Where or how do students give you hope?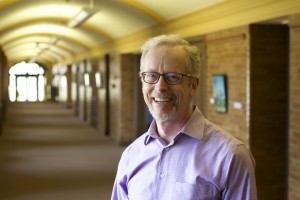 I teach a graduate seminar called Supervised Ministry Experience. The course provides an opportunity for a supervised internship experience in a congregation or other ministry setting, and runs for two or three semesters. In the last six weeks of their last semester, I watch students own their identity as a Christian minister. My priority is to say, it's not just about what skills you have, it's about what kind person you are. And I watch them becoming those kinds of people. Seeing men and women becoming leaders gives me a lot of hope.
What do you most long for in your work?
At CMU I interact with students from all over the world and from all different Christian backgrounds, including Mennonite, Catholic, Baptist, Pentecostal, and more. One of the things I long for is that Christians will treat each other with generosity from their different backgrounds; that they will say, "I can learn from you," and vice versa: "I've got something to offer that I think you could use." CMU started as two denominations committed to doing that. Now, there's this explosion of all kinds of other groups here, and that generosity is something I long for and I think is happening.
Do you have any interesting projects underway in the broader community or church?
Last year, I spent about five months memorizing the book of Ephesians. I did it walking to and from work. Thirty hours of work and it was basically memorized. I've had a chance to recite it as a sermon three times now, and I've just gotten another invitation from a church to do that. It takes 17 minutes, and then afterward we talk about what people heard. People hear things they've never heard before, which I can relate to: I'd taught Ephesians at Columbia Bible College, and I'd preached it as a pastor, but by memorizing it I saw connections I'd never seen before. It's very powerful.
What saying or motto inspires you?
In Matthew 13:52, Jesus says, "Every scribe [or Bible scholar-teacher] who has been discipled for the kingdom of heaven is like the master of a household who brings out of his treasure what is new and what is old." That verse sums up what I try to do. I get to draw on treasures from ancient times and from current times, and I get to package them and offer them to people and say: Look, is there something here you can use? Hopefully I do it in a way that's in the service of the Kingdom.