Dr. Paul Dyck,  Professor of English, has taught at CMU since 2000.
What do you love about your work here?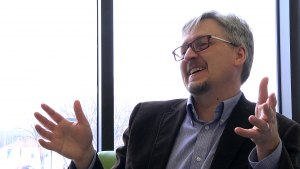 Many things, but one is that I get into interesting conversations with professors from different disciplines. Kenton Lobe, who teaches international development, is in the office across the hall from me, and we're constantly batting around ideas. We were just looking at a four-book poem by Virgil, The Georgics, which are about farm labour back in classical Rome, and tossing around the idea of maybe putting together a course that would look at poetry about the farm from Virgil to Wendell Berry. It's a real privilege to work in a place with such a gifted and dedicated group of interesting people.
What are you teaching right now that most excites you?

I'm teaching an upper level course that I haven't taught before on the sonnet as a poetic form. The sonnet was developed in 14th century Italy, and it's one of these inventions that just worked really well. There's no rule that says poets should keep writing them, but pretty much all the significant poets have at least one sonnet. It's a poetic form that has this kind of attraction that goes beyond questions of culture and language and even topic. It starts off as something devoted to love poetry, and today you've got sonnets on practically any topic you could name.
What are you researching and writing right now?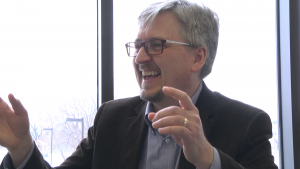 I'm working on a book about George Herbert. George Herbert was an early 17th century poet and also an Anglican minister. He's got this masterful use of the language where he can use the plainest of utterances and make them carry such depth so that you can read and re-read his work. It's very inviting, but also very profound. I'm combining my interest in Herbert with my interest in book history, which looks at the material history of the books that we read. Typically in Herbert studies you get a lot of theological criticism, and you might get some material criticism, but I don't think it's really been adequately explored how the two go together. In Herbert, the material becomes incarnational.

What are you reading for enjoyment?
I just finished In The Rose Garden of the Martyrs: A Memoir of Iran, by Christopher de Bellaigue, an English writer who is married to an Iranian woman and who spent many years living in Iran. This past December, I travelled to Iran and took a short course on Islam at an institute that CMU has a partnership with. Reading In the Rose Garden of the Martyrs revealed a more complicated story than I would have understood just being there for a week. It's fascinating how reading can broaden and give more depth to the experience of travelling somewhere.
Do you have any interesting projects underway in the broader community or church?
Recently I was involved with the Anglican Diocese of Rupert's Land in its Theological Education Commission, which reassessed how the church prepares ministers for their work, and also how the church thinks about theological education broadly. It was very engaging work.