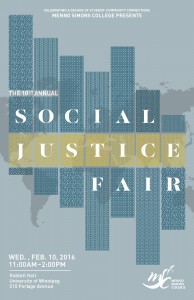 Celebrating a decade of student-community relations
Each year, Menno Simons College's (MSC) Social Justice Fair provides an opportunity for students and community members to connect with organizations engaged with social justice locally and globally.
Over 30 organizations will be present at this year's fair, the 10th annual, which takes place on Wednesday, February 10 from 11:00 AM – 2:00 PM in the University of Winnipeg's Riddell Hall.
The organizations represent work in development, human rights, newcomer support, Indigenous solidarity, youth programming, environmental sustainability, restorative justice, public health, and more.
"Every year the Social Justice Fair highlights and reinforces the impact that Menno Simons College continues to have on the wider community," says Dr. Neil Funk-Unrau, Associate Dean of MSC.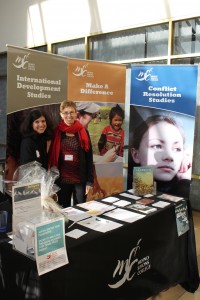 "By showcasing the social justice and community development initiatives around us, we can highlight the incredible work done by so many of our alumni and also present so many more opportunities for our current students to go out and make a difference in their world," he says.
In previous years, MSC alumni or students have planned the fair. This year, Caitlin Eliasson, MSC Student Services Assistant and MSC alumna, is coordinating the fair. Eliasson volunteered with the Social Justice Fair while she was a student at MSC and was a co-coordinator of the event in 2010.
"Over the decade, MSC has developed not only an event but a networking model for the potential and sustainability of student-community connections. Thinking back over the years of SJF, it's the faces of student organizers, staff, and community participants that beam in my mind—it has been a collective effort in building relationships and awareness," says Eliasson.
"Organizations fill volunteer needs, students find employment opportunities, alumni return as organization representatives, collaborative ideas are inspired—it does happen, often! The 10th Anniversary on February 10, 2016 is a celebration of this shared and ongoing work for social justice," she says.
For additional information about the Social Justice Fair, please contact:
Caitlin Eliasson
Menno Simmons College
204.953.3846
c.eliasson@uwinnipeg.ca
About Menno Simons College
Menno Simons College, a part of Canadian Mennonite University and affiliated with the University of Winnipeg, has been offering programs in International Development Studies (IDS) and Conflict Resolution Studies (CRS) since 1989. MSC fosters a vibrant undergraduate learning community in its newly renovated facility at 520 Portage Avenue. It offers 3-year and 4-year majors and a minor in IDS and CRS, an honors program in IDS, and an extensive practicum program. The College has over 1,000 students and hundreds of alumni working in the development and conflict resolution sectors in Manitoba, Canada, and internationally.
For information about Menno Simons College visit www.mscollege.ca.
For additional information, please contact:
Kevin Kilbrei, Director of Communications & Marketing
kkilbrei@cmu.ca; 204.487.3300 Ext. 621
Canadian Mennonite University
500 Shaftesbury Blvd., Winnipeg, MB  R3P 2N2