Award-winning scholar Dr. J. Richard Middleton scheduled to speak on campus
If you have ever been angry with God, wondered if it's OK to ask "Why?" or had nothing left to pray, this year's J.J. Thiessen Lectures at Canadian Mennonite University (CMU) are for you.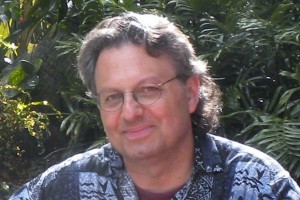 Renowned scholar Dr. J. Richard Middleton will present the three-part series, titled "The Silence of Abraham, The Passion of Job: Explorations in the Theology of Lament." The lectures will take place in the CMU Chapel (600 Shaftesbury Blvd.) on Tuesday, October 25 at 11:00 AM and 7:30 PM, and Wednesday, October 26 at 11:00 AM.
Middleton, Professor of Biblical Worldview and Exegesis at Northeastern Seminary in Rochester, NY, will explore what sort of prayer is appropriate in situations of difficulty and suffering.
"Richard thinks deeply, and yet communicates straightforwardly and is extremely approachable," says Dr. Gordon Matties, Professor of Biblical Studies and Theology, who is on the organizing committee for the J.J. Thiessen Lectures. "I'm so pleased that he's coming.
The lecture topics are as follows:
Lecture #1: "Voices from the Ragged Edge" – In the face of violence, pain, and suffering, the lament or protest psalms offer us theologically significant models of prayer. They open space for a rich and meaningful relationship with God that isn't resigned simply to ascribing the suffering to God's will.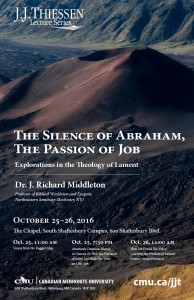 Lecture #2: "Abraham's Ominous Silence in Genesis 22: How the Patriarch of Israel Lost Both His Voice and His Son" – Arguing for the justice of God's actions, Abraham protested vigorously over the fate of Sodom (Genesis 18). Yet a few chapters later (Genesis 22), in response to God's instructions to sacrifice his son, he is reduced to silence. What are we to make of that transformation?
Lecture #3: "How Job Found His Voice: Learning the Wisdom of Lament from a Gentile Patriarch" – Job's passionate lament in response to the death of his family and his own suffering offers a possible alternative to Abraham's silence. Indeed, while God's first speech from the whirlwind corrects Job's understanding of God's justice, the second speech nevertheless affirms Job's lament as right and proper.
"Richard's topic for these lectures is really important in our time, when people are experiencing so much fear in our world and life becomes confusing and difficult," Matties says.
Middleton holds a PhD from the Free University of Amsterdam and is the past president of the Canadian Evangelical Theological Association.
His books, which include A New Heaven and a New Earth: Reclaiming Biblical Eschatology (Baker Academic, 2014) and The Liberating Image: The Imago Dei in Genesis 1 (Brazos, 2005), have been published in Korean, French, Indonesian, Spanish, and Portuguese.
Founded in 1978 by one of CMU predecessor institutions, Canadian Mennonite Bible College (CMBC), the J.J. Thiessen Lectures are named in honour of a founder and long-time chairperson of the CMBC Board. The lectures seek to bring to the CMU community something of Thiessen's breadth of vision for the church. Visit cmu.ca/jjt for details.
About CMU
A Christian university in the Anabaptist tradition, CMU's Shaftesbury campus offers undergraduate degrees in arts, business, humanities, music, sciences, and social sciences, as well as graduate degrees in theology, ministry, peacebuilding and collaborative development, and an MBA. CMU has over 800 full-time equivalent students, including those enrolled in degree programs at the Shaftesbury and Menno Simons College campuses and in its Outtatown certificate program.
For information about CMU visit www.cmu.ca.
For additional information, please contact:
Kevin Kilbrei, Director of Communications & Marketing
kkilbrei@cmu.ca; 204.487.3300 Ext. 621
Canadian Mennonite University
500 Shaftesbury Blvd., Winnipeg, MB  R3P 2N2