Canadian Mennonite University (CMU) is pleased to name the recipients of this year's Leadership Scholarships: Nathan Dueck, Westgate Mennonite Collegiate; Bryn Friesen Epp, Westgate Mennonite Collegiate; Joefin Mildred Peter, Johnston Heights Secondary School; Nicole Ternowesky, Vincent Massey High School.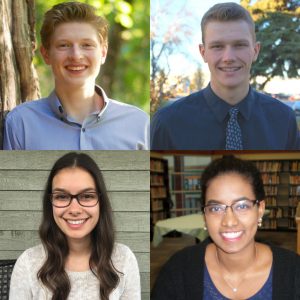 Four Leadership Scholarships are offered to students who demonstrate significant leadership ability, academic excellence, personal character, service, and vision. Worth up to $14,000 over four years, the Leadership Scholarship is awarded to recent high school graduates.
"CMU received many outstanding submissions for the Leadership Scholarship," says Lois Nickel, Director of Enrolment Services. "I found this year's recipients particularly engaging and articulate. We look forward to having them at CMU this fall."
Students applying for the Leadership Scholarships are required to provide a resume of their leadership involvement, along with two letters of recommendation, and an essay reflecting on a leader who inspires them.
"I am thrilled to have the opportunity to pursue a humanities degree in a Christian setting," says Nathan Dueck, whose inspiration comes from Sir Thomas More, a 16th Century lawyer, politician, and later, Catholic Saint.
More's devotion to public service and the courage to abide by his convictions are traits Dueck hopes to emulate.
Bryn Friesen Epp draws inspiration from Clare Schellenberg, Pastor at Hope Mennonite Church in Winnipeg, who he says, exhibits vulnerability, strength, integrity, and commitment to service—important qualities of good leadership.
"Clare modelled great leadership for me, and I look forward to learning from more great mentors at CMU," says Friesen Epp.
Joefin Mildred Peter is inspired by Emily Stowe, an educator, women's right's activist, and Canada's first female medical doctor. Stowe's perseverance, passion, and willingness to share ideas are what stand out for Peter.
"God paves a great path for everyone," she says. "CMU is an opportunity for me to spread my wings, without hesitation."
For Nicole Ternowesky, her grade nine social studies teacher, Ms. Harvey's compassion, and dedication to social justice and service, inspired her to get involved in her local community.
Now Ternowesky is looking forward to getting involved at CMU.
"I'm very grateful and humbled to have the opportunity to study in an environment rich in diversity, compassion, and love for God," says Ternowesky.
About CMU
A Christian university in the Anabaptist tradition, CMU's Shaftesbury campus offers undergraduate degrees in arts, business, humanities, music, sciences, and social sciences, as well as graduate degrees in theology, ministry, peacebuilding and collaborative development, and an MBA. CMU has over 800 full-time equivalent students, including those enrolled in degree programs at the Shaftesbury and Menno Simons College campuses and in its Outtatown certificate program.
For information about CMU visit www.cmu.ca.
For additional information, please contact:
Kevin Kilbrei, Director of Communications & Marketing
kkilbrei@cmu.ca; 204.487.3300 Ext. 621
Canadian Mennonite University
500 Shaftesbury Blvd., Winnipeg, MB  R3P 2N2