Canadian Mennonite University's Opera and Musical Theatre Workshop is proud to present Gilbert and Sullivan's famed comic opera H.M.S. Pinafore; or, The Lass That Loved a Sailor next month.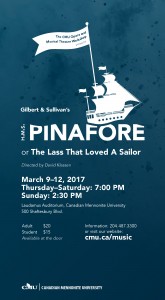 Directed by David Klassen, the production will run for four shows: Thursday, March 9 through Saturday, March 11 at 7:00 PM, and Sunday, March 12 at 2:30 PM. The performances take place in the Laudamus Auditorium (500 Shaftesbury Blvd.). Tickets are $20 for adults and $15 for students, and are available at the door.
Written by librettist W.S. Gilbert and composer Arthur Sullivan in the 1870s, the opera takes place aboard the titular ship.
The captain intends for his daughter, Josephine, to marry Sir Joseph Porter, the First Lord of Admiralty. At the same time, she is in love with Ralph Rackstraw, a lower-class sailor. The opera follows the characters as Josephine and Ralph declare their love for each other and eventually plan to elope.
The four performances are the culmination of six months of hard work by the 26 students enrolled in Klassen's Opera Workshop course.
The course gives students an understanding of the energy and effort it takes to communicate when performing operative works, and students learn how to work as part of an ensemble.
The course is made accessible to students at all skill levels.
"The cast is very enthusiastic," says Klassen, Instructor of Music at CMU. "What's great about these students is that they are really eager to grow as singers on stage. They're attentive and they are moldable, which makes it a real joy to work with them all."
A key goal is to develop each student's comfort level as a communicator onstage.
Klassen says that the lessons they learn in the class and while performing have significance in everyday life.
"When you understand what you're reacting against in other people's creations of characters, it kind of helps you understand real life a little bit better, and understand the value and strength of communication," he says.
Klassen employed a costumer to give students a sense of what it is like to do a production at an advanced level.
"They're treated like professionals in that regard, and they look like professionals," he says.
Opera Workshop students mount a full-scale production every second year. Past productions have included The Merry Wives of Windsor, a three-act opera based on William Shakespeare's comedic play, and Die Fledermaus, a German operetta by Johann Strauss II.
In the years in between, students present scenes from a variety of different works.
For more information about CMU's production of H.M.S. Pinafore, call 204-487-3300.
About CMU
A Christian university in the Anabaptist tradition, CMU's Shaftesbury campus offers undergraduate degrees in arts, business, humanities, music, sciences, and social sciences, as well as graduate degrees in theology, ministry, peacebuilding and collaborative development, and an MBA. CMU has over 800 full-time equivalent students, including those enrolled in degree programs at the Shaftesbury and Menno Simons College campuses and in its Outtatown certificate program.
For information about CMU visit www.cmu.ca.
For additional information, please contact:
Kevin Kilbrei, Director of Communications & Marketing
kkilbrei@cmu.ca; 204.487.3300 Ext. 621
Canadian Mennonite University
500 Shaftesbury Blvd., Winnipeg, MB  R3P 2N2