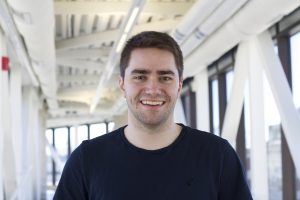 If you attend the Canada Summer Games in Winnipeg this summer, chances are good that you'll hear Jason Friesen's voice.
This past spring, Jason recorded announcements that will be broadcast over the PA systems at venues throughout the games, which start tomorrow (Friday, July 28).
The announcements endorse the companies and organizations that are supporting the games, and also let spectators know things like where they can buy merchandise and how they can connect with the games on social media.
Jason, who completed his fourth year at CMU this past April, has some prior recording experience, thanks to taking the Media Workshop class with David Balzer, Assistant Professor of Communications and Media at CMU.
The class teaches students how to research, write, and record interview segments for broadcast on the radio and internet.
Jason worked with Balzer, recording engineer Darryl Neustaedter Barg, and Canada Summer Games Host Society media relations consultant Monique Lacoste to record the English version of the announcements at the studio in Mennonite Church Manitoba, which is located next to CMU's Shaftesbury campus.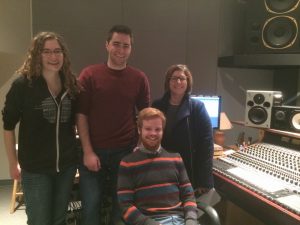 Recording the announcements was a fun experience, Jason says.
"It feels like a different level when it's going to be broadcast in venues across Winnipeg and people from across Canada will hear it," he says.
"It really makes you focus on what you're saying and how you're saying it, that you're doing it right and doing it in a way that grabs people's attention while they're at these venues."
Jason, who is majoring in Communications and Media, is an avid sports fan and a member of the CMU Blazers Men's Volleyball team.
"Watching sports, you always hear these announcements going over the loudspeaker," Jason says.
"That will be me now, I guess. It's a dream come true in some senses—not one I had set my mind to, but it's neat to take advantage of (the opportunity)."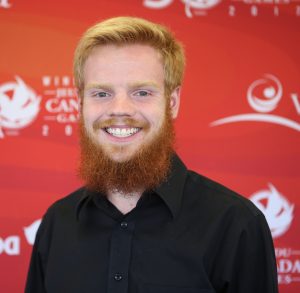 The opportunity came about as a result of Thomas Friesen (no relation to Jason), a CMU student who has spent the past year working as a sports and venues coordinator for the Canada Summer Games Host Society.
In addition to coordinating the venues and volunteers for the volleyball, golf, basketball, and triathlon competitions, Thomas's work has involved producing the content that will be broadcast over the PA systems at the games. (Read more about Thomas's experience working for the Games here.)
Like Jason, Thomas is majoring in Communications and Media. He took the Media Workshop class during the winter 2016 semester, which sparked his interest in getting CMU involved when it came time to recording the announcements he needed for the games.
Thomas knew that working with David, Darryl, and Jason would result in a professional recording.
"Just to get CMU involved in that way seemed like a great idea," Thomas says. "They did an awesome job. They sound great. It's pretty cool to think we'll have (a CMU student) being the English voice of the games."
This year's Canada Summer Games will include 16 sports and 250-plus events featuring more than 4,000 athletes.
Over 7,000 volunteers were recruited to make the games possible, and more than 20,000 visitors are expected at the events.
The games start this Friday and go until Sunday, August 13. It's the 50th anniversary of the games.
For Thomas, a lifelong sports fan who has played soccer and volleyball with the CMU Blazers, working for the games has been a dream come true.
"One of the best things about it is just working with people in sport," Thomas says.
He adds that the passion he's encountered from his supervisors, colleagues, and the volunteers is palpable.
"That's probably the coolest thing," he says, "always seeing that passion everywhere we go."