Reunions, Concerts, and Discussion Highlight of Annual Community-Building Event
When Brent Durksen and his wife, Kari Enns Durksen, found out that their graduating class would reunite at Canadian Mennonite University's Fall Festival, they made plans to attend.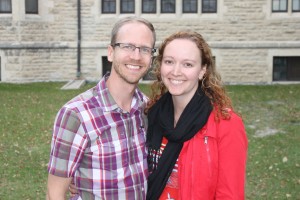 The couple travelled from their home in Calgary to participate in their 10-year Class of 2004 reunion and visit friends, professors, and staff from the CMU community.
"It was a good opportunity to indulge in some nostalgia, stay connected to CMU, see the work being done on the new library, and visit our friends," Durksen said. "We still have a lot of good friends from CMU that we're connected with."
Brent and Kari were two of the more than 500 people who came to CMU this past weekend, Sept. 27-28, for Fall Festival.
Celebrated annually, Fall Festival features opportunities for students, alumni, friends, donors, and community members to connect, learn, play, and celebrate with the CMU community.
In addition to class reunions, the weekend included a bicycle race, folk music festival, a farmers market with more than 25 vendors, and CMU Blazers basketball games.
The weekend opened on Friday, Sept. 26 with a Face2Face community discussion exploring shifting cultural sentiments and the complexity of end-of-life issues, euthanasia, and physician-assisted suicide.
Titled, "A Time to Die: Cultural and Faith Perspectives in the Face of Death," the event featured Justin Neufeld, Lecturer in Philosophy at CMU; Dr. Cornelius Woelk, Medical Director of Palliative Care at Southern Health-Santé Sud, and the Honourable Steven Fletcher, Progressive Conservative Member of Parliament for Charleswood-St. James-Assiniboia.
Activities on Saturday, Sept. 27 culminated in CMU's annual opening program, a time of worship to celebrate the start of a new school year.
Dr. Gordon Zerbe, who was appointed Vice President Academic this past June, delivered a message, titled "Citizenship and CMU.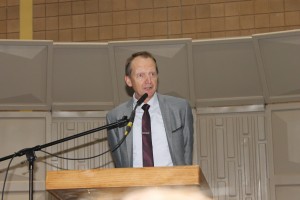 Drawing from Jeremiah, Matthew and Philippians, Zerbe spoke of the ways being a Christian is itself a kind of citizenship, and how the mission of Christian citizenship—and of CMU—is multidimensional.
"Christian citizenship practice… is about being on the move, along the 'way,' never quite knowing what is one's true and only home, just as Jesus had nowhere to lay his head," Zerbe said.
"Similarly, the practice of CMU as a Christian university in its multiple dimensions and multiple subjectives, will always be on the move—crossing boundaries, and not building walls. Resisting barriers, it will instead be building bridges."
The opening program also included the presentation of the 2014 Blazer Distinguished Alumni Awards, which annually recognize alumni who, through their lives, embody CMU's values and mission of service, leadership, and reconciliation in church and society.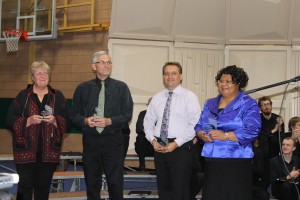 President Cheryl Pauls presented the awards to Kathy Bergen, who has spent more than 30 years working for justice in Israel-Palestine; Lorlie Barkman, a pastor-turned-TV producer; John Neufeld, the executive director of an organization that serves low-income people in need or support; and Odette Mukole, a Congolese immigrant who helps newcomers to Canada adjust to life in a new country.
During a short speech, Abram Bergen, Director of Church and Alumni Relations, noted how far CMU has come in the 14 years since becoming a university. A residence has been built, a new science lab has been completed, and the new library, learning commons, and bridge will open on November 29.
Meanwhile, 1,000 students have graduated from CMU and 1,200 have completed its Outtatown Discipleship School.
"These graduates are impacting their workplaces, their communities, and their families," Bergen said.
For Paul Dueck, a graduate of Canadian Mennonite Bible College, one of CMU's predecessor institutions, the chance to reconnect with faculty is what drew him to Fall Festival. An avid musician, Dueck was impressed by the music performed at opening program.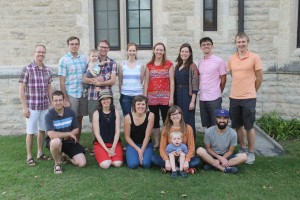 "To hear the choir sing with this quality this early in the year is incredible," Dueck said.
Daniel Friesen, a fourth-year Music student who participated in the MennoCross bike race and sung in the choir, was happy he attended Fall Festival.
"It's cool to see the wider community of CMU supporters that you don't necessarily think of when you're a student," Friesen said. "It's cool to think you're part of a larger group than just the student body."
Vice President External Terry Schellenberg said Fall Festival is a marquee event on CMU's calendar because it is a great community builder.
"Once again we brought together cyclocross racers—old and young—hundreds of community members for our Farmers Market, and a packed house for an important Face2Face community conversation," Schellenberg said.
"We celebrated the impact of four of our alumni who have made an incredible difference in church and society, and we opened another school year with great energy. It was a wonderful weekend of fun and celebration."
About CMU
A Christian university in the Anabaptist tradition, CMU's Shaftesbury campus offers undergraduate degrees in arts, business, humanities, music, sciences and social sciences, and graduate degrees in Theology and Ministry. CMU has over 1,600 students, including those enrolled in degree programs at the Shaftesbury Campus and in its Menno Simons College and Outtatown programs.
For information about CMU, visit: www.cmu.ca.
For additional information, please contact:
Kevin Kilbrei, Director of Communications & Marketing
kkilbrei@cmu.ca; 204.487.3300 Ext. 621
Canadian Mennonite University
500 Shaftesbury Blvd., Winnipeg, MB  R3P 2N2