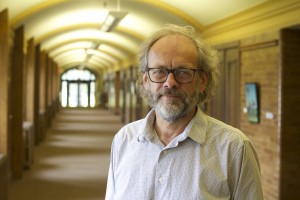 Dr. Paul Doerksen, Associate Professor of Theology and Anabaptist Studies, has taught at CMU since 2011. His new book is Take and Read: Reflecting Theologically on Books (Wipf and Stock, 2016).
What are you teaching right now that most excites you?
Theological Ethics. I've got just under a dozen students who are really bright, articulate, interesting, and willing to really go after questions that are raised by other students or by the readings that we pursue. Every class, it feels like there's something at stake. That's exciting.
What are you researching and writing right now?
I'm working on what I hope will be a book-length project on moral patience. The heart of the project is a line from Karl Barth's Church Dogmatics where he writes that God grants us the space and time to become who we were intended to be. That's a wonderful way of thinking about God's relationship to humanity, but then I wonder if there's something in there for the way that humans can get along with other humans. My kids think it's hilarious and ironic that I'm writing about patience.
What are you reading for enjoyment?
Some of the specific books include Silence by Shūsaku Endō. It's about a Jesuit priest being persecuted in early modern Japan, and is a take on martyrdom that is absolutely fascinating. Martin Scorsese directed an adaptation that's finally coming out within the next few months, which I'm looking forward to. I just started reading Imagine Me Gone by Adam Haslett. It's really good. And, I'm looking forward to David Bergen. He's got a new one out that I don't have my hands on yet.
What do you most long for in your work?
I hope that my work, and the work of CMU more broadly, can be part of encouraging the church and the academy to be faithful Christians. I hope that we appreciate each other's contributions and understand that we're involved, at very deep levels, in the same project – namely, trying to figure out what it means to be faithful to Christ.
Do you have any interesting projects underway in the broader community or church?
My Take and Read theology book discussion group continues to be a delight. Thirty people get together four times over the winter to discuss four different books over dessert. It keeps me reading and thinking in ways that are different from the classroom or formal research. My new book is a collection of reflections I've written on various books we have discussed at Take and Read over the years. I'm looking forward to being independently wealthy because of the royalties.
What saying or motto inspires you?
The Catholic theologian Gerald O'Collins once said, "Theology is watching our language in the presence of God." I think about this a lot. We believe that watching our language means not cursing, but there's much more at stake here than impolite language. All of the Christian life is, in a sense, learning more and more how to talk about God and use that grammar of faith. It doesn't come naturally, at least not to me. I need to be trained in it and I need to keep working at it.