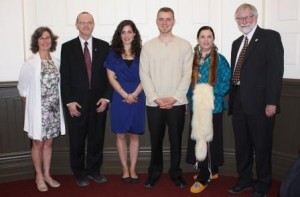 June 14, 2012 – On June 7, 66 students graduated having completed one of the two programs offered by CMU's Menno Simons College (MSC) in International Development Studies (IDS) or Conflict Resolution Studies (CRS). At a special MSC celebratory event, Dr. Julie Pelletier, Chair of Indigenous Studies at The University of Winnipeg, delivered the keynote address in Convocation Hall following graduation ceremonies.
"This year, 28 new, returning, and international students received awards – among the highest number of awards given in the history of MSC – including bursaries and scholarships," notes MSC Dean Dr. Richard McCutcheon. "Additionally, nine students received medals for achievement in a particular major or degree program."
In addition to an inspiring address by Pelletier, the MSC Graduation Celebration included greetings by Canadian Mennonite University President Dr. Gerald Gerbrandt and by Dr. Fiona Green, UWinnipeg's Acting Associate Dean of Arts. Invocation was given by MSC Associate Professor Dr. Ruth Rempel.
Also participating in the program were graduating students Andrea Blanchard, IDS graduate, and Joel Gonske, CRS graduate, who shared reflections on what their time at MSC has meant to them.
"It has been a privilege to be a part of a unique institution that exemplifies the principles it teaches by being caring, community-focussed, people-oriented, and respectful towards everyone," says Blanchard, who will begin work in September 2012 on her Master of Science degree at the University of Manitoba. "Since living in India and then taking IDS, I realized I was interested in improving health worldwide by studying the intersection of social sciences and health issues that make certain groups more vulnerable to poor health. Being in the IDS program gave me some unique opportunities related to my future goals."
After her third year of studies, Blanchard completed her MSC practicum at Mount Carmel Clinic. She then returned to India for her Honours Thesis on the benefits of empowerment of women in sex work for reducing their HIV vulnerability. "I'm really excited that I will be able to directly build on my IDS experience and my Honours Thesis research this fall."
Says Gonske: "Graduation is a milestone, but it is also a beginning of learning to work and live to the fullest, with responsibility and commitment to impacting the world for good."
"For me personally, Menno Simons College has been an integral part of my ongoing transition to life in Canada from life in Pakistan," says Gonske. "With its concern for international issues, its openness to diverse worldviews, and its various counter-cultural perspectives, I found it to be welcoming of my international background and interests… The community-based approach to education is one of the fantastic and unique aspects of Menno Simons College, one which we students have experienced
both in classes and through various practicum and research opportunities."
For McCutcheon, who is retiring from his role as Dean of Menno Simons, the graduation celebration for MSC students was particularly meaningful. "We are very excited about this year's graduating class," he says. "Our students are already engaging in the next step. They are aware of world issues and events, and they want to do something to make a difference."
CMU's Menno Simons College is one of the world's largest centres for peace and justice studies. The College provides education flowing from Anabaptist Mennonite understandings of faith, peace, and justice while engaging other religious traditions and intellectual perspectives. MSC fosters a learning community that prepares students from diverse backgrounds for participation and leadership in local and global communities. Considered a pioneer in International Development Studies and Conflict Resolution Studies, MSC offers a wide range of courses and experienced faculty in these areas, along with practicum opportunities and supporting scholarships.
Canadian Mennonite University offers undergraduate degree programs and two graduate degree programs. CMU has over 1,700 students at its Shaftesbury campus, downtown MSC campus, and in its Outtatown international program. A member of the Association of Universities and Colleges of Canada (AUCC), CMU operates a number of schools and institutes, including the Canadian School of Peacebuilding.
For MSC information, contact:
Ruth Taronno: r.taronno@uwinnipeg.ca; tel. 204.953.3846
www.cmu.cahttp://mscollege.ca
PHOTO, l to r:
Fiona Green, Richard McCutcheon, Andrea Blanchard, Joel Gonske, Julie Pelletier, Gerald Gerbrandt