In the Baptist circles of Waco, Texas, she's known as "the Mennonite."
Angela Reed (CMBC BTh '96, CMU BA '00) is Assistant Professor of Practical Theology and Director of Spiritual Formation at the George W. Truett Theological Seminary at Baylor University.
"I haven't actually been a member of a Mennonite church for 10 years, but that doesn't matter," Reed says. "They absolutely, wholeheartedly around the seminary refer to me as 'the Mennonite,' and seem to say that with great affection."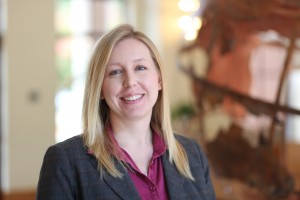 On faculty at Truett since 2010, Reed spends half her time teaching courses in spiritual formation and discipleship, and half her time directing the seminary's spiritual formation program.
The spiritual formation program at Truett invites all students to develop habits that support personal and communal spiritual formation that may sustain them through the challenges and joys of ministry.
The program is based upon small group discipleship. Each student is part of a six- to eight-person "covenant group" that meets weekly for prayer and spiritual formation.
Reed's work also includes providing spiritual direction in groups and with individual students, as well as researching and writing.
Her most recent book, Spiritual Companioning: A Guide to Protestant Theology and Practice, co-authored with Richard R. Osmer and Marcus G. Smucker, recently won the Martin Institute and Dallas Willard Center Book Award.
"What I most enjoy about my work is building relationships with students, helping them to discern their vocation and calling, and helping them to prepare for that," Reed says. "Part of that preparation is to see them grow in Christian character, and in relationship with God and others."
Reed grew up an hour and a half southwest of Winnipeg on a farm near Winkler, MB. As a child, she enjoyed reading the Bible on her own, and as a teenager attending Winkler Bergthaler Mennonite Church, she developed a strong interest in personal spiritual disciplines.
Studying theology at CMBC led to pastoral work at Sargent Avenue Mennonite Church in Winnipeg. She went on to earn her Master of Divinity through CMU and the Faculty of Theology at the University of Winnipeg.
During this time, Reed worked part-time as a spiritual director at Springfield Heights Mennonite Church. While finishing her MDiv, Reed began considering further study.
Her interests in spiritual formation and spiritual direction led her to Princeton Theological Seminary, where she graduated in May 2010 with a PhD in Practical Theology.
More than a decade after leaving southern Manitoba, Reed's Mennonite roots still run deep. She recalls CMU's emphasis on community in theology classes, Bible classes, and in chapel.
"I appreciate having come from this small community," she says, adding that it has influenced her work at Truett. "Creating small group community within the larger context (of the seminary), I think, has been very important to me."
"That commitment to community that I had within the Mennonite Church is a very strong part of who I am today, how I teach, and how I write," she adds. "I will never lose that."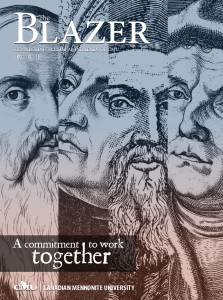 Article taken from the Spring 2016 issue of The Blazer magazine produced by CMU.
Click to view the entire magazine.