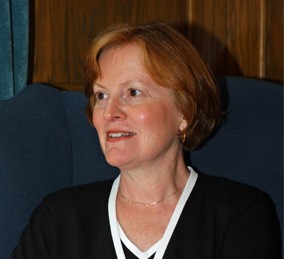 October 16, 2012 – Canadian Mennonite University (CMU) welcomes Beverly Roberts Gaventa, Helen H.P Manson Professor of New Testament Literature andExegesis at New Jersey's Princeton Theological Seminary, as lecturer for its 35th annual J.J. Thiessen Lecture Series, October 16 and 17.
Founded in 1978 at Canadian Mennonite Bible College, one of CMU's founding Colleges, the J. J. Thiessen Lectures are named in honour of the long-time chair of the CMBC Board. The lectures seek to bring to the Canadian Mennonite University community something of J.J. Thiessen's breadth of vision for the church.
The 2012 lectures presented by Gaventa, entitled "From Powerlessness to Praise in Paul's Letter to the Romans," explore apocalyptic theology in Paul's letter to the Romans. Gaventa addresses Paul's relentless depiction of humanity as thoroughly captive to powers by the names of Sin and Death, the action of God in radical deliverance through the peaceful invasion of Jesus Christ, the place of worship in the words and the working of Paul's letter, and the apocalyptic character of worship in Romans.
2012 CMU's JJ. Thiessen Lecture Series
October 16, 11:00 AM Unable to Help Ourselves
October 16, 7:30 PM       The God of Peace Makes War
October 17, 11:00 AM    Let All the People Say "Amen!"
Admission is free as a community service offered by CMU.
Lectures are held in the CMU Chapel at 600 Shaftesbury Boulevard (south campus).
Gaventa specializes in the Pauline epistles and in Luke-Acts, emphasizing theological interpretation. She holds an M.Div. from Union Theological Seminary in New York, a Ph.D. from Duke University, an honorary Doctor of Divinity degree from Kalamazoo College, and an honorary Doctor of Letters degree from Christian Theological Seminary. She is also an honorary professor of New Testament atStellenbosch University in South Africa and an ordained elder in the Presbyterian Church.
In addition to having written numerous articles, reviews, and lectionary resources, Gaventa is the author of several books, her most recent being Our Mother Saint Paul (Westminster John Knox, 2007), and The Acts of theApostles (Abingdon, 2003). She has served on editorial boards for a number of scholarly journals, is an editor-at-large for Christian Century, and has edited several volumes, the most recent being The New Interpreter's Bible One Volume Commentary (with David Peterson; Abingdon, 2010).
Gaventa has lectured widely in the United States as well as in South Africa, Australia, and Europe.  She is a member of the Society of Biblical Litera­ture, the Studiorum Novi Testamenti Societas, the Catholic Biblical Association, Duodecim, and the American Theological Society.
For further information on the J.J. Thiessen Lecture Series, visit http://www.cmu.ca/publiclectures.html#jjt)