Summer may be a distant memory for most people, but Canadian Mennonite University (CMU) student Jonas Cornelsen fondly recalls how he spent July and August – working as the Bible instructor at Camp Koinonia.
The camp is one of three run by Mennonite Church Manitoba's Camps with Meaning (CWM) ministry.
Cornelsen, who is majoring in Politics as well as Communications and Media, had never worked at camp full-time before.
It was a meaningful summer of spiritual renewal.
"God is God in all parts of our lives, and doesn't leave (us) when we leave a special place like camp, but certainly that's a place where you can become reconnected with that part of your being," Cornelsen says. "I think I managed to carry that back a little bit with me into this (school) year, which has been great."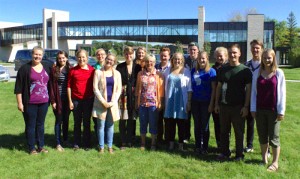 Cornelsen wasn't the only CMU student at camp. All 17 members of CWM's 2015 leadership team and more than half of its senior counsellors were CMU students or alumni.
"CMU prepares people who become stronger leaders," says Rebecca Klassen-Wiebe, a 2015 graduate who ran the summer program at CWM's Camp Assiniboia this past summer.
Whether it's by working as a residence assistant (RA), being a member of student council, leading worship in chapel, or playing on a sports team, CMU offers a variety of leadership opportunities.
Klassen-Wiebe knows people who found the confidence to work at camp after being in leadership roles at CMU.
"It was an easier progression because they had more experiences in other areas of their life," she says.
Working at camp has also prepared students to lead at CMU.
Andrew Brown, a History and Politics major in his final year of study, was inspired to become a camp counsellor in high school because he wanted to give children the same great experience his counsellors gave him as a camper.
Brown describes himself as a naturally reserved, quiet introvert. Working at camp helped him grow and mature by pushing him out of his comfort zone.
Ultimately, it gave him the confidence to work as an RA at CMU.
His reasons for taking on that role were similar to his reasons for wanting to be a camp counsellor.
"You want to step up and offer that great experience you had to other people," Brown says. "You want to be that person and help facilitate the community."
Breanna Heinrichs, a Music major, says studying at CMU has equipped her to be a better song leader at camp.
She recalls working at camp one summer after taking a class on leading worship, in which she learned practical skills as well as explored the theology of worship.
"I found I could bring that understanding (to worship at camp), whether I articulated it explicitly with my fellow song leaders or not," Heinrichs says.
Klassen-Wiebe adds that studying theology at CMU has made her a better counsellor and leader at camp.
"Having that base of knowledge, you have a wider spectrum of (things) to pull from when you're talking about faith with campers," she says.
Having so many CMU students involved with CWM is exciting, says CMU President Cheryl Pauls.
"As I've had opportunity to see CMU students in action through CWM, I've sat back with deep hope for the future of the church and thought, 'Wow, what an honour CMU has to walk alongside young adults of such fine character, commitment, and courage,'" Pauls says. "CMU is deeply invested in leadership development, and the uptake and effectiveness of emerging leaders through camping ministry is most heartening."
The camping ministry is vital to Mennonite Church Manitoba's mission, says Ken Warkentin, the organization's executive director.
"We at Mennonite Church Manitoba are very pleased to work in cooperation with CMU in this ministry," Warkentin says. "We appreciate the integrated approach to education that CMU provides. This approach infuses the intellectual and spiritual development of the student with Christian Anabaptist values and worldview. Even though there is no direct link between CMU and Mennonite Church Manitoba, we recognize the importance of this university in our ongoing ministry."
For Heinrichs, working at CWM is "a way of serving the church in a meaningful way."
"It's good work and also, it's a good fit with a lot of what CMU is all about: community, the church, and figuring out ways of being the church," she says.
Cornelsen agrees.
"CMU and camp bleed over in terms of the way we try to express God's vision for how we should live… as people being the church," he says. "They're both important expressions of the church's values and the way the church can be some kind of visible alternative to other parts of mainstream society."
He adds that during the course of their studies, CMU students learn about a lot of things that are wrong with the world. Ultimately, though, optimism and hope undergird each lesson.
The same is true for camp.
"CMU and camp both teach us to live as if the story of the Bible matters," Cornelsen says.