CMU's students give top marks to faculty, academics, and community
Canadian Mennonite University students have given top marks to the faculty, academics, and community at the university.
A Maclean's Magazine feature published this month gives a snapshot of the 2014 Canadian University Survey Consortium's (CUSC) findings, in which CMU placed in the Top Four out of 28 universities in four categories highlighted in the article.
The statements reflect how students feel about their professors and how comfortable they feel at their university.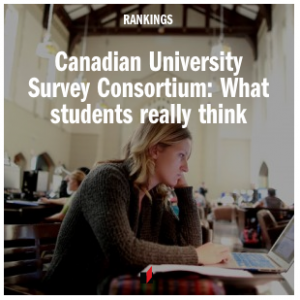 When presented with the statement, "Generally, I am satisfied with the quality of teaching I have received," 58 per cent of respondents from CMU said that they strongly agree—earning CMU the top spot out of the 28 universities surveyed.
Student responses to the statement, "Most of my professors treat students as individuals, not just numbers," also put CMU at #1.
CMU placed second when students were presented with the statement, "Most of my professors are intellectually stimulating in their teaching," and fourth when presented with the statement, "I feel as if I belong at this university."
To obtain the results, the CUSC administered an online questionnaire to a random sample of middle-years students at each school.
CMU President Dr. Cheryl Pauls says she is deeply encouraged by the way CMU students ranked their university.
"This affirmation is a form of gratitude, and helps us to keep providing this quality of education," Pauls says. "We consider mentorship to be vital to the learning students receive, and the survey demonstrates that students see and appreciate that faculty take them seriously as individuals both inside and beyond the classroom."
"I'm persuaded that our students will show a similar interest and care to others based on how they have been taught," Pauls adds. "That bolsters our courage and humility at the same time."
To view the Maclean's Magazine article, visit www.cmu.ca/macleans.
About CMU
A Christian university in the Anabaptist tradition, CMU's Shaftesbury campus offers undergraduate degrees in arts, business, humanities, music, sciences and social sciences, and graduate degrees in Theology and Ministry. CMU has over 1,600 students, including those enrolled in degree programs at the Shaftesbury campus and in its Menno Simons College and Outtatown programs.
For information about CMU, visit www.cmu.ca.
For additional information, please contact:
Kevin Kilbrei, Director of Communications & Marketing
kkilbrei@cmu.ca; 204.487.3300 Ext. 621
Canadian Mennonite University
500 Shaftesbury Blvd., Winnipeg, MB  R3P 2N2