Christian Investors in Education makes final donation before disbanding
Canadian Mennonite University (CMU) is thankful for the generosity of a Winnipeg-based group of men known as the Christian Investors in Education (CIE) who contributed more than $80,000 to the university over the past 30 years.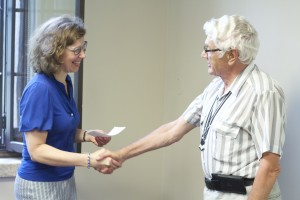 The group recently disbanded due to aging membership and a recognition that the group had run its course, but not before making a final donation that will amount to more than $115,000 over the next 20 years.
"Working with (CMU) on this level over many years has given us a great deal of satisfaction," said Henry Neufeld, chair of the CIE. "(We) trust that the spinoffs of this support might continue to be a blessing for all involved."
CMU President Dr. Cheryl Pauls praised the group's generosity.
"People who invest in education demonstrate trust," Pauls said. "They are not trying to control immediate outcomes, but invest in people and in the ongoing generation of faithful imaginations through time."
CMU will use $8,000 from the donation annually for the next two decades to fund new and ongoing Indigenous initiatives, bursary support for international students, and practicum support for students doing an intensive, cross-cultural practicum, particularly students involved in practica in Indigenous communities.
The CIE started its operation 52 years ago with the goal of assisting various forms of education.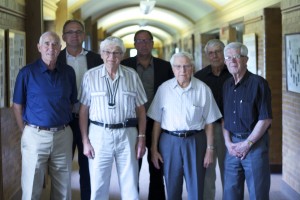 Projects included buying and operating a trading post in Pauingassi, a First Nation community located 280 km. northeast of Winnipeg, to assist Indigenous persons living there.
The CIE also purchased a property in Winnipeg's North End for a Mennonite Central Committee outreach project.
After selling its properties, the CIE invested the proceeds.
Starting in 1984, earnings from the proceeds, plus additional donations by members, supported cross-cultural practica at CMU as well as bursaries for international students.
Some years, as many as 30 members were active in the group. By 2016, that number had dwindled to 10 and the CIE decided to cease operations.
"We have come to the decision to gracefully dissolve our organization," said Neufeld, who joined the CIE in 1970. "To disperse the remaining funds, we have selected several appropriate projects to support… We would like to hand over to (CMU) the balance of our funds."
In addition to being a philanthropic endeavour, the CIE served as a fellowship group for its members, who met monthly. Each of their meetings included scripture reading, prayer, and time for sharing personal concerns.
Group members also met twice each year with their spouses for a summer barbeque and a Christmas banquet.
"We developed a very meaningful relationship with each other," said Alvin Wieler, who joined the CIE in the 1960s and was its longest standing member. "We all grew together."
Arthur Driedger, a CIE member for 15 years, added that he enjoyed hearing reports from students who were supported by CIE Funds. Driedger is sad to see the group disband.
"Every report (the students) gave us was just so well done," he said. "It was encouraging for us older people."
Pauls said that she has been inspired and encouraged by the good that resulted from the CIE's fellowship.
"I love the multi-dimensionality of what this group has been," she said. "Through nurturing one another personally and spiritually, they have advanced Christian education collectively."
About CMU
A Christian university in the Anabaptist tradition, CMU's Shaftesbury campus offers undergraduate degrees in arts, business, humanities, music, sciences, and social sciences, as well as graduate degrees in theology, ministry, peacebuilding and collaborative development, and an MBA. CMU has over 800 full-time equivalent students, including those enrolled in degree programs at the Shaftesbury and Menno Simons College campuses and in its Outtatown certificate program.
For information about CMU visit www.cmu.ca.
For additional information, please contact:
Kevin Kilbrei, Director of Communications & Marketing
kkilbrei@cmu.ca; 204.487.3300 Ext. 621
Canadian Mennonite University
500 Shaftesbury Blvd., Winnipeg, MB  R3P 2N2