Exploring assumptions goal of third Face2Face event of 2015-14 school year
Many young Canadians have stepped away from institutionalized religion, a trend that has been growing for the past 25 years. An upcoming event at Canadian Mennonite University will explore why.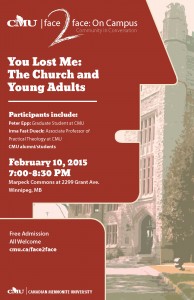 CMU's Face2Face community discussion series continues on Tuesday, February 10 with "You Lost Me: The Church and Young Adults." The event takes place in Marpeck Commons (2299 Grant Ave.) on CMU's campus. Admission is free, and everyone is welcome to attend. The event starts at 7:00 PM.
Face2Face is a series of conversations with CMU faculty, designed to engage the community on a wide variety of current events and issues at the intersection of faith and life.
Irma Fast Dueck, Associate Professor of Practical Theology, and Peter Epp, a student in CMU's Graduate School of Theology and Ministry, will co-host the discussion.
The diverse panel of young adults contributing to the conversation includes Kirsten Hamm-Epp and Lukas Thiessen, who are alumni of CMU, as well as Danielle Morton and Mike Wiebe, who are currently students at the university.
Dueck was inspired to create the event after encountering an increasing number of students who are Christians, but who either don't belong to a church or are not baptized.
"They're very committed Christians, interested in social justice, prayer, and everything, but they're nominally involved in church," Dueck says.
Epp's interest in the topic stems in part from his experience teaching Mennonite Studies at the high school level. He witnessed his students getting passionate about the topic as they learned more about it.
At the same time, they didn't argue with Epp when he suggested that statistically speaking, it's very likely they would leave the church as young adults.
"I think that contrast with students can get really interesting," says Epp, adding that his interest in the topic also comes from having close relationships with a handful of friends who have left the church as young adults.
Questions the panelists will explore include: Is the church not listening, or do young adults no longer care? Has the church lost touch with the issues about which young adults are most passionate? How significant is the church's worship to the participation and involvement of young adults? Do young adults feel any responsibility in keeping the legacy of the church going? What does it mean for the church to be "faithful" in this time and place?
The goal of the event is to explore the assumptions young people have about the church, as well as the assumptions people in the church have about young people.
"I'm just hoping to wade into the complexity of the questions and dispel some of the stereotypes we have around this issue," Dueck says.
Epp agrees.
"My hope is that people in the church would walk away with a deeper understanding of the complexity of the situation, so that they can better address it," he says. "On the flipside of that, I hope young adults might be able to step back and consider their own engagement with the church in potentially new ways."
"You Lost Me: The Church and Young Adults" is the third of four Face2Face events CMU is hosting during the 2014-15 school year. For details, please visit www.cmu.ca/face2face.
About CMU
A Christian university in the Anabaptist tradition, CMU's Shaftesbury campus offers undergraduate degrees in arts, business, humanities, music, sciences and social sciences, and graduate degrees in Theology and Ministry. CMU has over 1,600 students, including those enrolled in degree programs at the Shaftesbury Campus and in its Menno Simons College and Outtatown programs.
For information about CMU, visit: www.cmu.ca.
For additional information, please contact:
Kevin Kilbrei, Director of Communications & Marketing
kkilbrei@cmu.ca; 204.487.3300 Ext. 621
Canadian Mennonite University
500 Shaftesbury Blvd., Winnipeg, MB  R3P 2N2