Fellowship supports Rebecca Bartel's PhD work on faith and finance in Colombia
How are people in Colombia formed by finance? What are the hopes of everyday people in their use of credit cards, bank accounts, as well as alternative economic systems, in a country at war?
Those are the questions at the heart of the dissertation Rebecca Bartel is writing to fulfill the requirements of her PhD program in the Department for the Study of Religion and the Center for Diaspora and Transnational Studies at the University of Toronto.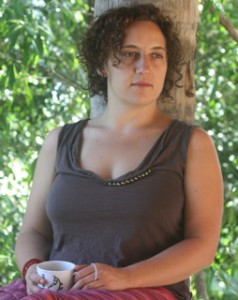 "My dissertation is about the soul of finance—the good, the bad, and the structural," says Bartel, who graduated from CMU in 2001 with a Bachelor of Arts in Music and Theology, with a minor in Political Science. "I am convinced that a road to peace and justice will necessarily consider economics, and more specifically, our financial system."
This past summer, Bartel became one of 16 inaugural recipients of a Weston Fellowship. Presented by the University of Toronto and The W. Garfield Weston Foundation, the fellowship is dedicated to international experience at the doctoral level. Each recipient was given $50,000 to further their research and broaden their skills and networks in a global setting.
Bartel is currently in Bogotá, Colombia for a year of fieldwork and teaching at the National University of Colombia. She is no stranger to the country, with more than a decade of academic and life experience in Colombia.
During her last year at CMU, Bartel became curious about how "the politics of Jesus" could be, and were being, practiced in the face of armed conflict and the deep injustices in the world.
"I became very concerned with the question of war, why it happened and how it could be resolved, and I decided I wanted to pursue graduate studies in armed conflict resolution in a place where an armed conflict was currently going on," she says.
Close friends who had spent time in Colombia encouraged Bartel to consider studying there, so she did.
"The experiences of the Colombian Anabaptist churches as beacons of light for justice and peace in the midst of structural and physical violence were an inspiration that I wanted to learn more about," she says.
Bartel received a Master's degree in Political Science, which was focused on the political economy of war, as well as a graduate specialization in armed conflict resolution from the Universidad de Los Andes in Bogotá.
During and after her studies, she worked for two years with the Colombian Mennonite Foundation for Development (MENCOLDES) as a Mennonite Church Canada volunteer, and then for four years with Mennonite Central Committee as Policy Analyst and Educator for Latin America and the Caribbean.
For Bartel, studying at CMU was foundational academically as well as personally and spiritually.
"CMU pushed me to take the gospel seriously, put it into action, and seek out the face of Christ in places where darkness and violence seem to prevail," she says. "CMU taught me that community, simplicity, and critical thinking can pull back the veil of darkness and reveal the illuminating hope of liberating action."
Bartel hopes to graduate with her PhD in 2015. She would like to land a tenure-track position in a university, begin a study-abroad program to Latin America, and continue writing and teaching on religion and economics.
Bartel realized at CMU that while she may not see the fruits of all the acts of resistance and liberation that churches and communities in Colombia live out each day, her life must be a testimony to the faith that one day, peace with justice shall reign.
"This faith is what pushes us to believe, indeed know, that war will end, and God's promise of equality, justice, and a life without fear will be real."