Kathleen Bergen and Jonas Cornelsen are the 2016 recipients of Canadian Mennonite University's (CMU) President's Medal Awards.
CMU President Cheryl Pauls presented the awards during CMU's 2016 Graduation Exercises on April 24. Bergen and Cornelsen received the awards in recognition of their qualities of scholarship, leadership, and service.
"I feel very honoured," Bergen says. "CMU has challenged me and expanded my thinking."
Bergen, 21, and Cornelsen, 22, were chosen from a group of 84 graduates.
Bergen, who is from Edmonton, AB, graduated with a four-year Bachelor of Arts, majoring in Biblical and Theological Studies.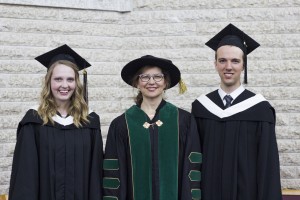 She immersed herself in university life by serving on CMU Student Council, singing in choirs, and performing with worship bands.
This past school year, Bergen was involved with Emerging Voices, a group formed by CMU students in an effort to respond to Mennonite Church Canada's Future Directions Task Force.
Bergen is an active member of First Mennonite Church in Edmonton and has spent numerous summers working as a camp counsellor at Camp Valaqua, located one hour northwest of Calgary, AB.
Cornelsen grew up in Winnipeg and graduated with a four-year Bachelor of Arts, double majoring in Political Studies as well as Communications and Media.
Receiving the President's Medal was the culmination of an impressive undergraduate career that began in Grade 12 when Cornelsen won a CMU Leadership Scholarship, worth $14,000 over four years.
During his time at CMU, Cornelsen worked as a residence assistant, sang in choirs, played bass in chapel services, served on student council, and provided colour commentary as an announcer for the university's athletics department.
An active member of Hope Mennonite Church in downtown Winnipeg, Cornelsen also volunteered with the music program at West Broadway Youth Outreach, helped with the Manitoba Children's Museum summer day camps, and worked as the Bible instructor at Camp Koinonia, one of three camps run by Mennonite Church Manitoba's Camps with Meaning ministry.
Cornelsen was also chosen by his Class of 2016 classmates to be their valedictorian.
Cornelsen says it is the "threads of hospitality" and graciousness that ran through his time at CMU that stick out the most when he looks back on the last five years.
He recalls a powerful moment he experienced as a first-year student during a foot washing ceremony in a chapel service.
"My choir conductor washed my feet," Cornelsen says. "I thought it was remarkable that someone with that much authority showed that hospitality and Christian service to (a) lowly first-year."
For Bergen, highlights of studying at CMU included growing deeper in her faith and exploring her interests in ministry.
She points to touring through Alberta and Saskatchewan with the CMU Chamber Choir in spring 2015 as a highlight of her undergraduate experience. The tour stopped at churches where Bergen knows many people.
"It was really exciting to sing for those people who love me and know me and support me, and to share with them in that way a big part of what I've been doing at CMU," Bergen says.
Now that graduating is over, Bergen has moved back to Edmonton. She will begin studying for her Master of Science in Occupational Therapy at the University of Alberta in September 2017.
"I've always been really interested in the way the human body works, particularly how it heals," Bergen says. "Being an occupational therapist will allow me to build relationships with the people I work with and use my creativity to problem-solve."
Cornelsen will spend the coming year living with his 97-year-old grandfather in Vancouver, BC, where he will serve as his grandfather's caregiver.
"It's another one of those things that makes perfect sense to me now, but if I hadn't gone to CMU, I'm not sure if I'd be that interested in doing it," Cornelsen says. "I'm really hoping I learn a lot and come away from it somehow changed."
About CMU
A Christian university in the Anabaptist tradition, CMU's Shaftesbury campus offers undergraduate degrees in arts, business, humanities, music, sciences, and social sciences, as well as graduate degrees in theology, ministry, peacebuilding and collaborative development, and an MBA. CMU has over 800 full-time equivalent students, including those enrolled in degree programs at the Shaftesbury and Menno Simons College campuses and in its Outtatown certificate program.
For information about CMU visit www.cmu.ca.
For additional information, please contact:
Kevin Kilbrei, Director of Communications & Marketing
kkilbrei@cmu.ca; 204.487.3300 Ext. 621
Canadian Mennonite University
500 Shaftesbury Blvd., Winnipeg, MB  R3P 2N2