Exciting Weekend of Activities Slated for September 30 to October 1
CMU invites the public to experience two exciting days on campus and get a taste of university life during its Fall Festival 2011, being held September 30 and October 1 at 500 Shaftesbury Boulevard, Winnipeg.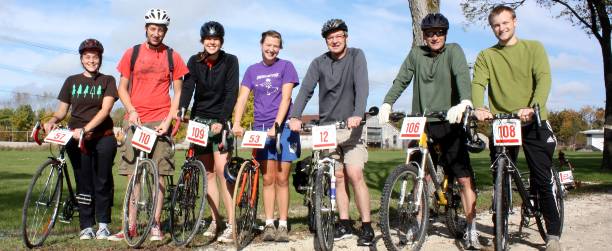 "Fall Festival – replacing CMU's traditional Homecoming – affords a wonderful opportunity to connect with our university community and participate in variety of exciting events.  Come, visit our campus, experience our faculty in action, glimpse the vibrant student life at CMU, and share in the program, vision, and potential of our university," says Vice President External Terry Schellenberg.  "Everyone – students, alumni, friends, donors, community members – is welcome to be part of a renewed weekend that will connect and inspire."
The weekend opens Friday with a celebration to honour CMU's 2011 Blazer Distinguished Community Service Award winner Ray Dirks along with winners of the 2011 Blazer Distinguished Alumni awards, Lois Coleman Neufeld (MBBC '80), Judith Klassen Neufeld (CMBC '97), David Loewen (MBBC '61), and Robert Wedel (CMBC '69).
Following the award presentations, guests gather at 7:30 p.m. to explore the issue of human rights in an evening presentation of words and music.  CMU offers a thought-provoking lecture for the public, entitled "It's Not Only about You" by faculty member Paul Doerksen, followed by a response from faculty member John Derksen. Woven into the presentation will be music of the Quartet for the End of Time, by Olivier Messiaen.
Visitors with an interest in athletics can watch the exhibition volleyball games in the Loewen Athletic Centre from 7 p.m. to 10 p.m. on Friday.
Activities on Saturday get underway with the challenging MennoCross bike races, 11 to 5 pm. Racers ride a course that twists and turns around CMU's north campus.  In addition to the competitive class, there are races for beginner and intermediate riders as well as kids. Registration details are available online.
Alumni reunions take place in the afternoon, as well as an alumni choir rehearsal for the evening performances.
Beginning at 3 p.m., a variety of activities get underway, with games, a children's "bouncy house," dunk tank, and a pie auction included in the festival's offerings.  Visitors – and especially parents of students – may be interested in taking tours of CMU's student residences and campus buildings and grounds.
Of particular interest to guests, from 4 p.m. to 5:15 p.m., will be the presentation of five short "Faculty Samplers" in two time slots.  The "samplers" will offer a taste of the passion and expertise of CMU's faculty. Dietrich Bartel presents Music as Wellness; Gordon Zerbe's sampler is Walking the Streets of Paul's Philippi, Virtually; Candice Viddal offers A Hymn to God's Glory:  Physics and the Spiritual Dimension; Tim Rogalsky presents Logic Unlocks Pauline Puzzles! Mathematics as a key to understanding the letters of Paul; and a workshop presentation by David Balzer explores The Art of Communicating in Church and Society or why I think our storytelling should be 'pathetic.'
CMU invites guests to stay for a free BBQ supper followed by an evening celebration service at 7 p.m. featuring the wonderful voices of CMU Alumni and Student choirs conducted by faculty members Janet Brenneman and Rudy Schellenberg, along with student sharing and a short address by CMU's President, Gerald Gerbrandt.
CMU's full weekend schedule can be viewed online at www.cmu.ca/fallfestival.html  and on our Facebook Page Canadian Mennonite University, Fall Festival tab. You can also follow CMU_Alumni on Twitter.
Canadian Mennonite University (CMU) is a Christian university in the Anabaptist tradition, offering four Baccalaureate degrees with majors in a wide variety of areas. CMU offers programs in arts and sciences, as business, communications, peace and conflict transformation studies, music, music therapy, theology, and church ministries.  CMU also offers Master of Arts degrees in Theological Studies and in Christian Ministry.
Located in Winnipeg, Manitoba, CMU has over 1,700 students at its Shaftesbury Campus in Southwest Winnipeg, at Menno Simons College in downtown Winnipeg, and enrolled through its Outtatown discipleship program.
CMU is a member of the Association of Universities and Colleges of Canada (AUCC).
For CMU information, contact:
Nadine Kampen,
Communications & Marketing Director
Tel. 204.487.3300 Ext. 621
nkampen@cmu.ca
For event information, contact:
Eleonore Braun, CMU Alumni Coordinator
Tel. 204.487.3300 Ext. 605
ebraun@cmu.ca
500 Shaftesbury Blvd.
Winnipeg, MB  R3P 2N2