Menno Simons College to host 9th Canadian Association for Refugee and Forced Migration Studies conference
The United Nations Declaration of Human Rights (Article 13) states that everyone has the right to freedom of movement within and across borders. Today unprecedented numbers of people are being denied this right. How can host states, origin states, the international community, private citizens, and civil society act to address the escalating global crises triggered by forced migration?
That's the question that will be explored at the 9th annual conference of the Canadian Association for Refugee and Forced Migration Studies (CARFMS), taking place May 11–14, 2016 at Menno Simons College and the University of Winnipeg.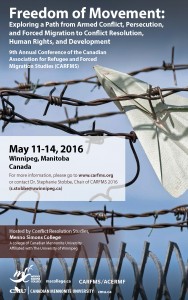 The conference, "Freedom of Movement: Exploring a Path from Armed Conflict, Persecution, and Forced Migration to Conflict Resolution, Human Rights, and Development," will be hosted by Menno Simons College (MSC) and chaired by Dr. Stephanie Stobbe, Associate Professor of Conflict Resolution Studies at MSC.
"We are in the fields of conflict resolution and international development at MSC and part of our mandate and goal is to look at social justice and how to assist in different humanitarian crises and situations," says Stobbe.
Academics, researchers, students, government officials, lawyers, and lawmakers, community organizations, and practitioners will explore the topic freedom of movement through four perspectives.
A conflict resolution and peacebuilding approach will encourage discussion of the root causes of forced migration and how those issues can be addressed. How can governments, non-governmental organizations, and other actors participate in supporting freedom of movement?
A human rights perspective will explore which human rights are related to freedom of movement, how those rights can be realized, and what actors and instruments can help facilitate this movement.
Discussions of development as related to freedom of movement will look at how to improve the livelihoods of people who are on the move. How can safe, sustainable environments be created that address human needs and work toward social justice?
A focus on methodology and knowledge production will examine interdisciplinary research methodologies that look at war and armed conflict, extreme violence, human rights, and development. What are standard and new research methods being used to study freedom of movement?
Four plenary sessions will feature keynote speakers: Art DeFehr, CEO of Palliser Furniture, humanitarian, and former head of UNHCR in Somalia; Elspeth Guild, Jean Monnet Professor ad personam in Law at Radboud University in Nijmegen, Professor of Law at Queen Mary University of London, and associate senior research fellow at the Centre for European Policy Studies; Christopher Mitchell, Emeritus Professor of Conflict Analysis and Resolution at George Mason University and expert on "Track Two" interventions to address international conflicts; and Loly Rico, President of the Canadian Council for Refugees and Co-Director of the FCJ Refugee Centre. Additional plenary panels will highlight scholars and practitioners in the fields of conflict resolution, human rights, and development, including International Refugee Law Judges.
"We are looking forward to exploring collaborations between scholars, practitioners, non-governmental organizations, and governments to see how we can really address these crises and move towards peaceful relationships and peacebuilding," says Stobbe.
Concurrent sessions, a student caucus, and exhibitions will provide participants with opportunities to explore freedom of movement through additional perspectives and mediums.
"We are pleased to have exhibitions as part of the conference for the first time," says Stobbe. "The exhibits will provide discussion material and chances for participants to be informed about the situation and learn what some responses have been."
Doctors Without Borders will have an emergency clinic set up to display how they work in refugee camps and in situations of humanitarian crises. They will also have a photo exhibit about their work with refugees. The Bitter Oranges exhibit will focus on the work of Drs. Reiners and G. Reckinger, and photographer C. Reckinger in Italy and the situation facing African migrant workers under the European migration policies.
The conference is open to anyone who is interested in learning about freedom of movement of refugees and forced migrants as it relates to conflict resolution and peacebuilding, human rights, development, and research and methodology. The conference has attracted international interest with participants from countries worldwide.
"We're very excited so many people are interested in coming to this conference and contributing to the discussion about next steps. It will be very interesting to have perspectives from people all over the world," says Stobbe. "We're hoping that after this conference people will be able to continue the networking opportunities and connections they've made, and be able to collaborate and work together to address this humanitarian crisis."
For more information about the conference, visit carfms.org/conferences/9th-annual-conference.
Follow CARFMS on Twitter @_carfms.
Join the conversation online by using the hashtag #CARFMS16.
About Menno Simons College
Menno Simons College, a part of Canadian Mennonite University and affiliated with the University of Winnipeg, has been offering programs in International Development Studies (IDS) and Conflict Resolution Studies (CRS) since 1989. MSC fosters a vibrant undergraduate learning community in its newly renovated facility at 520 Portage Avenue. It offers 3-year and 4-year majors and a minor in IDS and CRS, an honours program in IDS, and an extensive practicum program. The College has over 1,000 students and hundreds of alumni working in the development and conflict resolution sectors in Manitoba, Canada, and internationally.
For information about Menno Simons College visit www.mscollege.ca.
For additional information about the CARFMS conference, please contact:
Dr. Stephanie Stobbe
Menno Simons College
Phone: 204.953.3850
Email: s.stobbe@uwinnipeg.ca