Scottish author and professor to speak on 'Disability, Timefulness, and Gentle Discipleship'
How might the experience of profoundly disabled people impact our understandings of God, creation, and the meaning of humanness?
Dr. John Swinton will explore that question at this year's J.J. Thiessen Lectures at Canadian Mennonite University (CMU) on October 14-15. Titled "Becoming Friends of Time: Disability, Timefulness and Gentle Discipleship," the three-part lecture series take place in the CMU Chapel (600 Shaftesbury Blvd.) on Tuesday, October 14 at 11:00 AM and 7:30 PM, and concludes Wednesday, October 15 at 11:00 AM.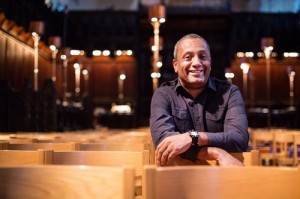 Swinton, Professor and Chair in Divinity and Religious Studies at the University of Aberdeen in Scotland, will discuss the nature and purpose of time, and the ways in which certain forms of disability draw attention to forgotten aspects of time and timefulness.
The lectures will focus particularly on people with profound intellectual disabilities and people with cognitive disabilities such as advanced dementia. People with such life experiences perceive and live out time in ways that are quite different from the expectations of our speed driven culture.
"If we can conceptualize time differently, we begin to look at the gospel quite differently," Swinton says.
People with profound disabilities draw attention to the significance of time and point towards the fact that true knowledge of God and faithful discipleship is slow and gentle; not bound by the assumptions of speed, worldly success, and the quickness of one's intellect.
"One of the primary things that we learn is that by living in God's time as opposed to the time created by our own clocks, we begin to encounter our daily practices quite differently," Swinton says.
He adds that Christians today are "always walking ahead of Jesus." The average Westerner walks at a pace of six miles per hour, whereas Jesus would have walked at half that speed—partly because of the heat, but partly because he understood the meaning of time. He had all the time in the world to do what God wanted him to do.
"By taking time to slow down and think about the experiences of people with dementia, we begin to discover things about God and being human that simply aren't available (to us) when we're walking ahead of Jesus," Swinton says.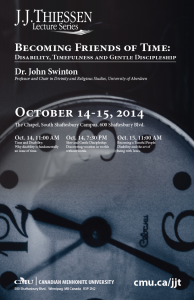 Swinton is Professor in Practical Theology and Pastoral Care in the School of Divinity, Religious Studies and Philosophy at the University of Aberdeen. He has a background in nursing and healthcare chaplaincy, and has researched and published extensively within the areas of practical theology, mental health, spirituality and human well-being, and the theology of disability.
Swinton says his lectures at CMU are for everyone. Through the lectures, he aims to call Christians together to engage in a more faithful discipleship.
He hopes that people who attend will walk away with an understanding that people with profound intellectual disabilities and people with advanced dementia are disciples with a God-given vocation.
"The lectures appear to be about disability, but they're really about humanness and faithfulness," Swinton says. "They're actually about all of us."
About CMU
A Christian university in the Anabaptist tradition, CMU's Shaftesbury campus offers undergraduate degrees in arts, business, humanities, music, sciences and social sciences, and graduate degrees in Theology and Ministry. CMU has over 1,600 students, including those enrolled in degree programs at the Shaftesbury Campus and in its Menno Simons College and Outtatown programs.
For information about CMU, visit: www.cmu.ca.
For additional information, please contact:
Kevin Kilbrei, Director of Communications & Marketing
kkilbrei@cmu.ca; 204.487.3300 Ext. 621
Canadian Mennonite University
500 Shaftesbury Blvd., Winnipeg, MB  R3P 2N2