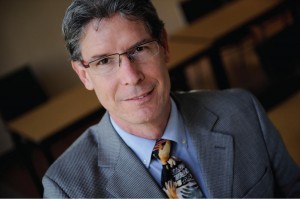 May 28, 2012  – Taking a fresh new look at an age-old and often misunderstood  book, Dr. Gordon Matties has written Joshua, the newest volume in the Believers Church Bible Commentary.  Joshua was launched in May 2012 by Herald Press. The commentary series is a joint project of six Anabaptist-related churches:  Mennonite Church (USA and Canada), Mennonite Brethren Church, Church of the Brethren, Brethren Church, and Brethren in Christ. 
Matties, professor of Biblical and Theological Studies at Canadian Mennonite University (CMU) in Winnipeg and CMU's former Dean of Humanities and Sciences, builds on the idea of Scripture as dialogue partner.
"Over the years, Christians have often used the Old Testament book of Joshua to justify warfare, conquest, colonialism, and even ethnic cleansing," says Matties. "This commentary imagines the book of Joshua as a participant in an intra-biblical conversation in which Joshua interprets other texts, and other texts interpret Joshua. Viewed that way, the Bible itself bears witness to a lively, if painful, debate about the relationship between violence and the identity and mission of God's people."
"Joshua is troubling, especially to those for whom divinely commanded warfare and conquest are major stumbling blocks to their reading of the Bible," writes Tom Yoder Neufeld, professor of religious studies at Conrad Grebel University College, University of Waterloo. "Matties takes up the challenge, letting the text have its say while inviting readers to an often difficult conversation."
"Matties invites readers to enter a conversation marked by hermeneutical hospitality, giving Joshua its say as well as providing opportunity to listen to other biblical texts… a masterful treatment," writes Lynn Jost, professor of Old Testament, Fresno Pacific Biblical Seminary.
In his book, Matties cautions Christians about hearing what they want to hear when they read Joshua and other difficult sections of the Bible. This includes those who believe Joshua justifies war as well as those who reject war. "We do well to foster an openness to the unexpected," says Matties.
He suggests that reading Joshua care­fully will open windows into how and why we read Scripture at all, and will push Christians not to settle for easy answers.  
"In a time of religious justification for terrorism and counter-terrorism, Joshua may be a book for our time," says Matties.
"Be prepared for surprises," writes Elmer A. Martens, professor emeritus of Old Testament, Fresno Pacific Biblical Seminary, on reviewing Joshua.  "While some commentaries offer definitive answers, Matties encourages dialogue—with other biblical texts, with the early Church Fathers, Origen, and with Tolkien and modern films."                                                                                                                                                                                            
W. Derek Suderman, assistant professor of religious studies, Conrad Grebel University College, University of Waterloo, comments: "Attentive to the often negative legacy of Joshua, Matties provides profound insight, and exemplifies a commitment to both Scripture and community that reflects the peace church tradition at its best. Sometimes resources for peace can be found in the most unexpected places."
Matties holds a PhD in Old Testament from Vanderbilt University in Nashville, TN. His doctoral dis­sertation, Ezekiel 18 and the Rhetoric of Moral Discourse, was published by the Society of Biblical Literature.
He also contributed to Abingdon Press's The New Interpreter's Study Bible and to the forthcoming Common English Bible Study Bible.  Matties is a member of the Editorial Council of the Believers Church Bible Commentary.
Before coming to CMU, Gordon worked at Mennonite Brethren Bible College and its successor, Concord College.
For information or to place an order for Joshua, Believers Church Bible Commentary, visit www.MennoMedia.org/Joshua