Community invited to 'grapple with some challenging and necessary conversations'
A Winnipeg police officer, an advocate for victims, and a restorative justice specialist from South Korea are the special guests at an upcoming Canadian Mennonite University (CMU) event focusing on restorative justice.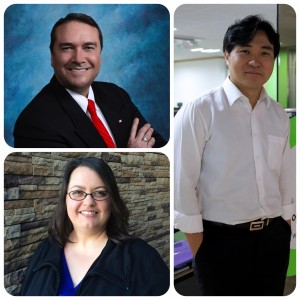 Bob Chrismas, Lisa Phommarath, and Jae-Young Lee are the panel members at CMU's second Face2Face discussion of 2014-15. Titled, "Restorative Justice: Soft on Crime or Building Community Security?" the event takes place on Thursday, November 13 at 7:00 PM in CMU's Great Hall (500 Shaftesbury Blvd.).
Admission is free, and everyone is welcome to attend. Face2Face is a series of conversations with CMU faculty and special guests designed to engage the community on a wide variety of current events and issues at the intersection of faith and life.
David Balzer, Assistant Professor of Communications and Media at CMU and one of the event's organizers, says CMU wanted to host a conversation about restorative justice because educating for peace and justice is one of the university's institutional commitments.
Recent political decisions around tough-on-crime policy were also on the organizers' minds.
"There's a seeming move to incarceration as an answer for how we make things right in the community when a wrong is committed," Balzer says. "This event will put restorative justice under the microscope and ask: What does it have to say to us?"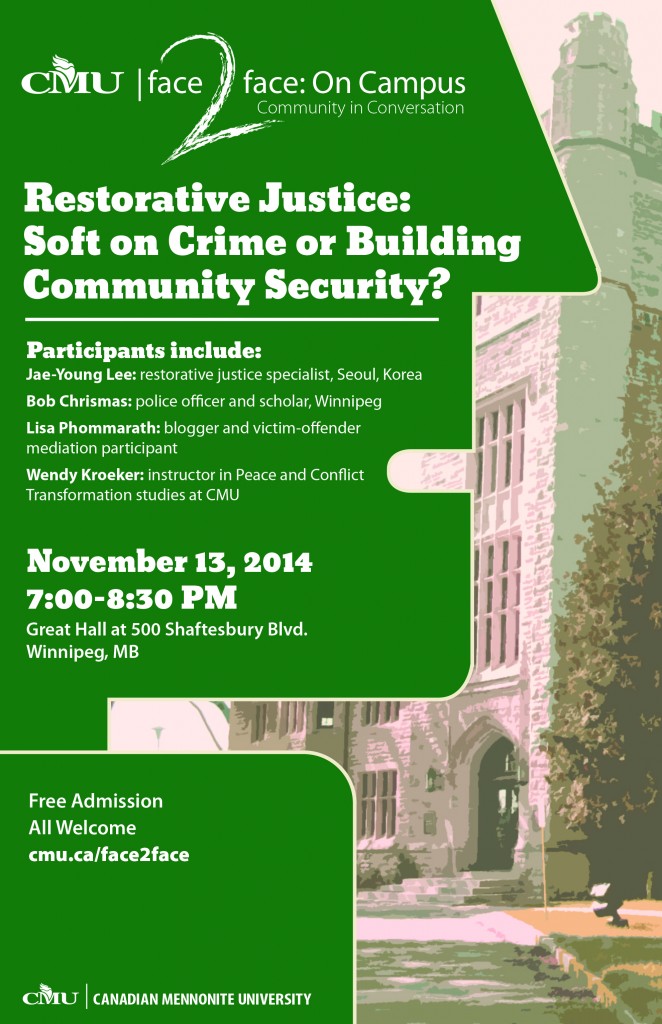 The November 13 event will explore questions such as: What roles do incarceration, punishment, and restorative justice play in building security? Is restorative justice effective in ensuring accountability for wrongdoing or violence? Are punishment and incarceration helping us to build more secure communities? How does our cultural context—whether Winnipeg or Korea—impact how we imagine responses to crime and wrongdoing? And, how does civil society connect with these concerns?
Lee, who is from Seoul, South Korea, works as a restorative justice specialist in schools, police stations, and regional conferences; Chrismas is a 25-year veteran of the Winnipeg Police Service who, in addition to his work as a staff sergeant, is currently working on a PhD in Peace and Conflict Studies; and Phommarath is a victim of violent crime who has worked for several years with an inmate visitation program, as well as with Voices of Resilience, a support group for victims.
"I can't wait to hear all three of these people present, because they are taking their ideas about restorative justice and putting them into action," Balzer says. "They want to help bring people together in very broken places in the world."
Wendy Kroeker, Instructor in Peace and Conflict Transformation Studies at CMU, will also serve as a contributor in this conversation, offering key definitions and frameworks.
After the panelists present, people in attendance are invited to join in the discussion by asking questions and sharing their own reflections.
"Our hope for this event is to create an open and authentic space for community members and invited presenters to grapple with some challenging and necessary conversations," Balzer says.
"Restorative Justice: Soft on Crime or Building Community Security?" is the second of four Face2Face events CMU will host during the 2014-15 school year. For details, please visit www.cmu.ca/face2face.
About CMU
A Christian university in the Anabaptist tradition, CMU's Shaftesbury campus offers undergraduate degrees in arts, business, humanities, music, sciences and social sciences, and graduate degrees in Theology and Ministry. CMU has over 1,600 students, including those enrolled in degree programs at the Shaftesbury Campus and in its Menno Simons College and Outtatown programs.
For information about CMU, visit: www.cmu.ca.
For additional information, please contact:
Kevin Kilbrei, Director of Communications & Marketing
kkilbrei@cmu.ca; 204.487.3300 Ext. 621
Canadian Mennonite University
500 Shaftesbury Blvd., Winnipeg, MB  R3P 2N2