Winnipeg – A woman who has spent more than 30 years working for justice in Israel-Palestine, the executive director of an organization that serves low-income people in need of support, a pastor-turned-TV producer who volunteers with people who have Alzheimer's, and a Congolese immigrant who helps newcomers to Canada are the recipients of Canadian Mennonite University's (CMU) 2014 Blazer Distinguished Alumni Awards.
CMU President Cheryl Pauls is pleased to present the awards to Kathy Bergen, John Neufeld, Lorlie Barkman, and Odette Mukole on Saturday, September 27 during the Opening Program ceremony at the university's Fall Festival.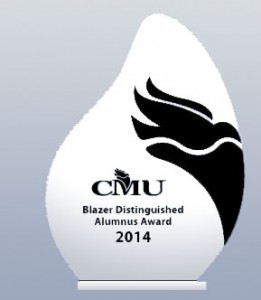 The Blazer Awards are presented annually to alumni from CMU and its predecessor colleges: Canadian Mennonite Bible College (CMBC) and Mennonite Brethren Bible College (MBBC)/Concord College. The awards celebrate alumni who, through their lives, embody CMU's values and mission of service, leadership, and reconciliation in church and society.
"We are humbled and inspired by the honour and care all four of these alumni extend to people who are often marginalized," Pauls says. "We give these awards to thank them for the example of their lives."
Pauls will present the awards during CMU's Opening Program at 7:00 PM on Saturday, September 27 in CMU's Loewen Athletic Centre as part of CMU's Fall Festival.
Earlier that day, the public is invited to meet and interact with Bergen, Neufeld, Barkman, and Mukole during an event at 4:00 PM in CMU's Laudamus Auditorium. During this hour, the award recipients will reflect on their personal and professional journeys. There will be time for questions and interaction.
Information about the 2014 award recipients:
For the past 32 years, Kathy Bergen (CMBC '72) has dedicated her life to working for justice in Israel-Palestine. Bergen lived in Jerusalem from the time of the Israeli invasion of Lebanon in 1982 until after the Gulf War in 1991, working with MCC. Her career includes seven years as the program coordinator for the Friends International Center in Ramallah, a Quaker ministry in the West Bank, and 12 years as national coordinator of the Middle East Program of the Peacebuilding Unit for the American Friends Service Committee, a Quaker organization based in Philadelphia, Pennsylvania that works for peace and justice around the world.
A 1995 graduate of CMBC, John Neufeld earned a Master of Social Work at the University of Toronto and worked for 11 years in foster care. After completing a Master of Business Administration at Wilfrid Laurier, he took on his current role as executive director at House of Friendship, a Kitchener, ON-based organization whose mission is to serve low-income adults, youth, and children in need of support. "I think it's critical to our common humanity that we all feel we belong, so I want to be engaged in work that makes people feel they belong," he says.
Pastor and television producer are two titles on Lorlie Barkman's resume. Barkman (MBBC '90) spent 15 years with Family Life Network, a communications arm of the Mennonite Brethren Church of Manitoba, where he co-created a family TV series called "The Third Story" that aired across much of Canada. Before and after his time in TV, Barkman worked as a pastor. Now retired, Barkman enjoys volunteering in seniors homes, where he does a form of art therapy for people with Alzheimer's by drawing pictures of memories that they share with him. "The Lord has kindly provided many mercies – guidance, forgiveness, encouragement, love," Barkman says. "I'm very grateful to God."
Concern for her family's safety motivated Odette Mukole to move to Canada from the Congo with her three daughters in 2000. She graduated from CMU in 2007 with a Bachelor of Arts majoring in Social Science and currently works as a case coordinator at Family Dynamics, a not-for-profit, community-based agency in downtown Winnipeg that helps newcomers to Canada adjust to life in a new country. "I really like what I'm doing, helping people and making sure they get what they need," she says. "And when I talk to clients, it's from my own experience."
About CMU A Christian university in the Anabaptist tradition, CMU offers undergraduate degrees in arts, business, humanities, music, sciences, and social sciences, as well as two graduate degree programs. CMU has more than 1,700 students, including Menno Simons College and Outtatown students, and is a member of the Association of Universities and Colleges of Canada (AUCC).  For information about CMU, visit: www.cmu.ca. Media contact: Kevin Kilbrei, CMU Communications & Marketing Director kkilbrei@cmu.ca; 204.487.3300 Ext. 621 Canadian Mennonite University 500 Shaftesbury Blvd., Winnipeg, MB R3P 2N2