For release June 18, 2010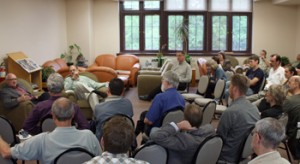 Canadian Mennonite University today welcomed well respected denominational leaders on campus as part of its ongoing commitment to maintain vital relationships with two church bodies, Mennonite Church Canada and the Canadian Conference of Mennonite Brethren Churches.  2010 marks significant leadership transitions within both denominations.
Jack Suderman, Executive Secretary of Mennonite Church Canada, retires on July 23 after serving in this capacity since 2005.  David Wiebe, Executive Director of the Canadian Conference of Mennonite Brethren Churches, transitions from his leadership position at the end of 2010, having served in this capacity since July of 2000.
At the invitation of CMU, Suderman and Wiebe today joined faculty and staff for a time of reflection, at which event the University acknowledged the significance of their leadership commitments and created an opportunity for conversation with CMU faculty and staff.
"It proved to be an absorbing hour of interaction as both church leaders reflected on the present and future of each denomination," says CMU Vice President (External) Terry Schellenberg. "Both David and Jack expressed gratitude and joy in the personal and congregational relationships which they have cultivated during their leadership tenure. Each reflected on the deep and faithful integrity of so many within the church. And each spoke about the present reality of their respective denominations and the challenges their churches face within Canadian society."  Suderman and Wiebe also identified the hope and optimism they hold in and for the church in the coming decades, even as they spoke about the significance of the challenges that lie ahead for the church.
This was an important opportunity for a university community, committed to be a 'university of the church for the world,' to be in direct dialogue with leaders of the church with whom they partner.   "David and Jack affirmed the work and importance of faith and leadership formation as it is occurring at CMU," said Schellenberg. "They reflected on the fact that each of their children graduated from CMU, with each having been formed deeply by their experience."
CMU faculty and staff expressed gratitude for the leadership and vision that each has embodied and affirmed the importance of ongoing connections between university and church.
A Christian university in the Anabaptist tradition, CMU offers undergraduate degrees as well as two graduate degree programs. CMU has over 1,800 students, including MSC and Outtatown students, and is a member of the Association of Universities and Colleges of Canada (AUCC).
For information, contact:
Nadine Kampen CMU Communications & Marketing Director
nkampen@cmu.ca; 204.487.3300 Ext. 621
Canadian Mennonite University , 500 Shaftesbury Blvd., Winnipeg, MB  R3P 2N2