Nearly 10 years in the making, the official book launch of Along the Road to Freedom – Mennonite women of courage and faith featuring the paintings of artist Ray Dirks will take place at the Canadian Museum for Human Rights on Wednesday, November 8 at 7:00 PM. All are invited, and admission is free.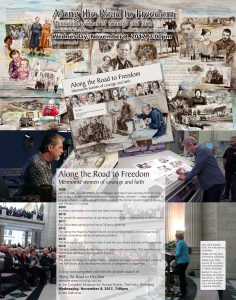 The book includes comments from each Along the Road to Freedom committee member and Manitoba Lt. Gov. the Honourable Janice C. Filmon. The foreword by Dr. Marlene Epp, Professor of History and Peace and Conflict Studies, Conrad Grebel University College, offers a historical backdrop that connects with today. Dirks reveals his artmaking process and recounts his journey with each painting and sponsoring family.
Dirks, founder and curator of the MHC Gallery on the campus of Canadian Mennonite University, was visited by four senior citizens in 2008 who wanted to initiate a project honouring their mothers and others like them. These four individuals—Nettie Dueck, Hans Funk, Wanda Andres, Henry Bergen—escaped the Soviet Union during WW2 on what Mennonites call the Great Trek. In the midst of the war, 35,000 people, many widows with children, left their homes in what is now Ukraine and fled north and west, hoping to eventually reach Canada. Twelve thousand made it out to either Canada or Paraguay, while 23,000 did not make an escape. 
Three of the four people had lost their fathers at an early age. The men were taken by the NKVD, secret police, and like so many others under Stalin, were either quickly murdered or shipped to Siberia where they died in the miserable gulag system. When it came time to flee, their mothers, alone, led them out under the worst of conditions. 
Along the Road to Freedom has also been a travelling exhibition of large story paintings honouring women, most of them widowed, who led children to freedom either during the time of anarchy, famine, and chaos following the Russian Revolution or during WW2 on the Great Trek. The exhibition has toured to 20 venues in Canada and the US. The corresponding book will include all the paintings and stories on each of the women featured.
The book will be available for $35.00 plus GST.
BOOK ORDERING DETAILS FOR SINGLE AND MULTIPLE BOOK ORDERS WILL FOLLOW IN DAYS.
Please contact Connie Wiebe (cwiebe@cmu.ca; 204.487.3300, ext 344) for information on ordering book, including all bulk book orders.
Along the Road to Freedom Mennonite is a MHC Gallery project 100% funded and created by donations and in kind contributions from writers, editors, and artist/book designer Ray Dirks.
The MHC Gallery is a self-funded gallery of Canadian Mennonite University.
For more information, please contact:
Ray Dirks, curator
CMU Press/MHC Gallery
500 Shaftesbury Blvd.
Winnipeg, Manitoba  R3P 2N2 
To interview Ray Dirks, write to rdirks@cmu.ca or call 204.487.3300, ext 346. Print resolution images are available upon request.