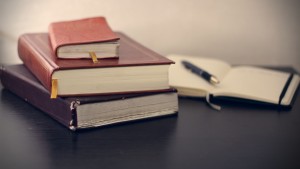 CMU is pleased to announce the winners of its 2016 Essay Contest for High School Students. Congratulations to Nathan Dueck, Westgate Mennonite Collegiate; Luke Olfert, Mennonite Brethren Collegiate Institute; and Ben Shelton, Mennonite Brethren Collegiate Institute.
Students were asked to respond formally in a 950–1,100 word essay to one of three questions.
How can truth be served by fiction?
Can faith be best understood as a noun or a verb?
Is religious commitment a threat to diversity? If so, should Canadians think twice before opening our doors to refugees with strong religious commitments?
Dueck's essay "How can truth be served by fiction?" placed first, earning him $300 in cash and $200 in tuition credit. Second and third place of $100 cash and $200 in tuition credit were awarded to Olfert for his essay "The duality of faith" and Shelton for his essay "Fiction's role in truth."
Associate Professor of English Paul Dyck, who organized the contest, says the essay contest questions are designed to have a broad appeal yet be specific enough to draw out particular responses.
"Essays are where students think their way through things," says Dyck. "In an essay, students are discovering their thoughts on a topic and working through them in a focused way."
This year CMU received the highest number of essay submissions in the contest's history.
About CMU
A Christian university in the Anabaptist tradition, CMU's Shaftesbury campus offers undergraduate degrees in arts, business, humanities, music, sciences, and social sciences, as well as graduate degrees in theology, ministry, peacebuilding and collaborative development, and an MBA. CMU has over 800 full-time equivalent students, including those enrolled in degree programs at the Shaftesbury and Menno Simons College campuses and in its Outtatown certificate program.
For information about CMU visit www.cmu.ca.
For additional information, please contact:
Kevin Kilbrei, Director of Communications & Marketing
kkilbrei@cmu.ca; 204.487.3300 Ext. 621
Canadian Mennonite University
500 Shaftesbury Blvd., Winnipeg, MB  R3P 2N2