Erin Weaver, Rebecca Reesor Recognized as Outstanding CMU Graduates
Canadian Mennonite University at its April 17, 2011 Convocation made the inaugural presentation of the President's Gold Medal for Scholarship, Leadership, and Service to two outstanding CMU graduates from the Class of 2011.
"CMU is bestowing its new award to honour students whom the University considers to have best exemplified the vision of CMU for scholarship, leadership, and service during their time here as students," says CMU President Gerald Gerbrandt. "The recipients of the President's Gold Medals in 2011 are Erin Elizabeth Weaver and Rebecca Ann Reesor."

"Approved by CMU Senate in March 2011, the President's Gold Medal award process identifies graduating students who have achieved a grade point average of 4.0 or more," notes Registrar Wesley Toews.  Members of Faculty and Student Life then submitted nominations from this list of exceptional students and a selection committee comprised of representatives from CMU Faculty, Student Life, and the CMU Awards Committee made the final choices.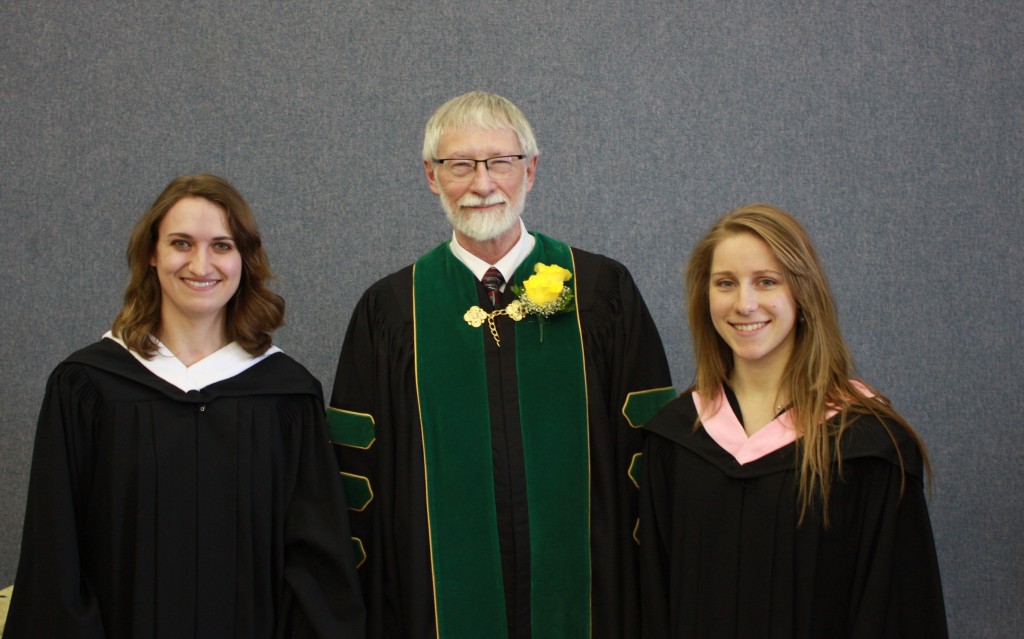 "We have amazing students and the new President's award is a great way to feature them," says Peters Kliewer. "The candidates for the award were all great students – bright, competent, caring people.  They will make a valuable contribution and be effective in their home communities and in the world."

CMU 2011 President's Gold Medal Award Winners

Erin Elizabeth Weaver (CMU '11)
Graduating with a Bachelor of Arts (4-Yr.) in International Development Studies with a minor in Biblical and Theological Studies, Erin Weaver has been very involved in student leadership at CMU.  A member of the CMU Student Council for the past two years, Weaver was Vice President of Student Relations in 2010-'11, and in the prior year, served as the chair of the Peace and Social Awareness Committee.
Demonstrating a passion for those in need, Weaver took an active role in helping students on campus but also reached out beyond the campus to the inner city, where she took a particular interest in addressing homelessness.  Generous with her time and in using her gifts to serve those around her, Weaver organized and coordinated such events as the CMU Pearson Challenge, Tuition Freedom Day, and Blood Donor Clinics.
Weaver, who comes from Red Lake, Ontario, lived on campus at CMU. While completing her CMU practicum requirement, she also lived for several months in Uganda.
Rebecca Ann Reesor (CMU '11)
Rebecca Reesor graduated with a Bachelor of Music, with concentrations in Performance and Music Ministry.  An exceptional pianist, Reesor recently won first place in the CMU 2011 Verna Mae Janzen competition.
Beyond her music and academic work, Reesor was also able to share of herself in other ways within the CMU community and through committee work. Reesor, who lived in residence, was highly engaged in campus life. She participated in CMU ensembles; led and participated in Wednesday night worship services and student chapels; was a hard-working member of our Peace-It-Together (PIT) worship committee; and was a planning member for a ministers' worship conference. She was also in the CMU sports program in earlier years, playing for the Blazer Women's Soccer team.
Reesor completed her practicum in her home church in Bluevale, Ontario and is using skills she learned at CMU with Winnipeg's Fort Gary Mennonite Brethren Church, where she currently works in a music role.
Reesor and Weaver were among 82 graduates who received CMU Shaftesbury Bachelor or Master degrees at the 2011 Convocation, where guest speaker Rudy Wiebe (MBBC '61) shared an inspirational message. Also celebrating that same day were 62 students, returning days earlier from Guatemala and South Africa, who completed the CMU Outtatown program.
Canadian Mennonite University (CMU) is an accredited Christian university offering undergraduate degrees in the arts, music, music therapy, theology, and church ministries, and master degrees in theological studies and Christian ministry. CMU is a member of the Association of Universities and Colleges of Canada (AUCC). Located in Manitoba, CMU has over 1,700 students at its Shaftesbury Campus in Southwest Winnipeg, at Menno Simons College in downtown Winnipeg, and enrolled through Outtatown, CMU's adventure and discipleship program.


For information, contact:
Nadine Kampen,
Communications and Marketing Director
nkampen@cmu.ca
Tel. 204.487.3300   Toll free 877.231.4570
Canadian Mennonite University,   500 Shaftesbury Blvd.   Winnipeg, Manitoba, Canada R3P 2N2