'How do we minister to couples who are part of our churches and living together?' prof asks
Cohabitation is increasingly a reality in Canadian society. How ought the church respond? That's the question behind an upcoming event at Canadian Mennonite University (CMU).
The community is invited to "Cohabitation: The Question of Living Together Before Marriage," CMU's latest Face2Face discussion, on Tuesday, February 9. The event starts at 7:00 PM in Marpeck Commons (2299 Grant Ave.). Admission is free, and everyone is welcome to attend.
Cohabitation is a difficult topic that many people are hesitant to address, which makes it ideal for the Face2Face series, says David Balzer, Assistant Professor of Communications and Media at CMU, who will moderate the discussion.
He adds that a discussion about cohabitation is inevitably a discussion about what commitment and marriage mean in 2016.
"We're really unpacking the question of what a marriage covenant looks like in society today," Balzer says.
This event will focus on three main questions:
What clarity might we gain on the biblical, theological, sociological/cultural, and relational dynamics that underlie the reality 

of cohabitation?

What makes this practice challenging to openly discuss within our church communities, as families and with young adults we 

know and love?

How can we best resource and learn from one another?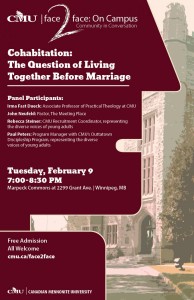 Participants in the discussion include Dr. Irma Fast Dueck, Associate Professor of Practical Theology; John Neufeld, lead pastor at The Meeting Place; and Rebecca Steiner and Paul Peters, two CMU staff members who will represent the diverse voices of young adults.
Dueck, who has researched cohabitation and presented on the topic to church leaders throughout Canada and the United States, says the reality today is that the way to marriage for many young people is to live together first.
"There is huge pressure for our young adults to live together before they get married – even sometimes from parents," Dueck says.
She hopes the conversation on February 9 goes deeper than exploring whether cohabitation is right or wrong.
"The question is, how do we minister to couples who are part of our churches and living together?" Dueck says. "What does living together do to our theology of marriage? How do we talk positively about marriage amongst people who have seen their parents get divorced? How do we keep valuing it and keep putting it forward as an option amongst people who are living together?"
Steiner believes it is important for the church to be talking about cohabitation.
"It's one of those awkward topics we don't know how to address in the church," she says. "Sometimes it feels good to engage those topics that are tricky or taboo. It can be difficult or challenging, but I'm excited for the conversation that will happen at the event."
Balzer says that when he and his fellow organizers discussed the event recently, no one in the room could think of a time when they heard cohabitation being discussed in a public way in their respective church communities.
"There's a sense with this event that we're trying to open the conversation," Balzer says. "If we accomplish simply starting a conversation, then we've hopefully made a contribution."
Started in 2013, Face2Face is a series of conversations organized by CMU, designed to engage the community on a wide variety of current events and issues at the intersection of faith and life.
"Cohabitation: The Question of Living Together Before Marriage" is the third of four Face2Face events CMU will host during the 2015-16 school year.
For details, visit cmu.ca/face2face.
About CMU
A Christian university in the Anabaptist tradition, CMU's Shaftesbury campus offers undergraduate degrees in arts, business, humanities, music, sciences, and social sciences, as well as graduate degrees in theology, ministry, peacebuilding and collaborative development, and an MBA. CMU has over 800 full-time equivalent students, including those enrolled in degree programs at the Shaftesbury and Menno Simons College campuses and in its Outtatown certificate program.
For information about CMU visit www.cmu.ca.
For additional information, please contact:
Kevin Kilbrei, Director of Communications & Marketing
kkilbrei@cmu.ca; 204.487.3300 Ext. 621
Canadian Mennonite University
500 Shaftesbury Blvd., Winnipeg, MB  R3P 2N2