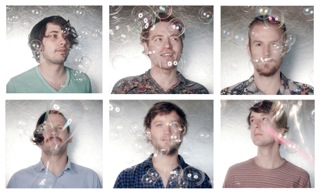 August 22, 2013 – With its forward-thinking blend of pop, rock, hip hop, dance, soul, and electronic music, as well as its energetic live shows, Royal Canoe has made a name for itself as one of Winnipeg's most exciting bands.
Two of the band's singles have reached the Top 5 on CBC Radio 3, they have toured throughout North America and Europe, and they've earned praise from venerable publications like The New York Times to blogs like This Music Doesn't Suck, which described the band's sound as "a clever blend of aesthetics and genres executed with a confidence and expertise usually reserved for more established groups."
Bucky Driedger, Royal Canoe's guitarist, backing vocalist and co-songwriter, sees a clear connection between the work he does in the band and the time he spent on Outtatown in 2002-2003 and then studying at CMU.
"Both were experiences that shaped my worldview and gave me a desire to experience new places and try new things," says Driedger, who graduated in 2007 with a Bachelor of Arts in Social Sciences, with a concentration in Communications.
He adds that he studied and lived in residence with many creative people who were interested in making music and visual art.
"Being in a culture where my peers valued thinking outside the box really helped me develop my sense of taste and what I value in art," he says. "Good art should help people . . . imagine a new way of thinking about the world."
Studying communications gave Driedger an appreciation for the way media and pop culture interact, and the subtleties involved in phrasing a message so that it has a particular impact on its intended audience.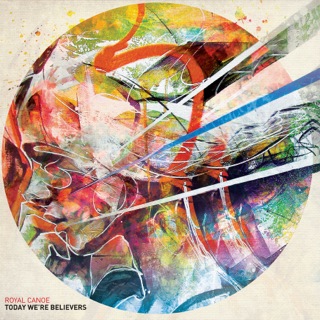 CMU also equipped Driedger with some of the tools he uses to help promote the band. While Royal Canoe has a manager, booking agents, and record label support, each member is actively involved with every aspect of the business side of the music industry, from graphic design, to photo shoots, to booking tours, to writing press releases and updates for the band's website.
"Gone are the days when you can be a mad genius in your basement, get discovered by a major record label, and have everyone do everything for you," he says. "You need to have copywriters and booking agents in your band."
While at CMU, Driedger sang in choir. Growing up in the Mennonite Church, he saw what an important part music plays in Mennonite culture.
"From a young age, I learned to value thoughtful music-making," he says.
The intricate composition and harmony Driedger and his bandmates witnessed in church has made its way into Royal Canoe's sound. Some of the group's songs have a classical music feel, and at any given moment, four of the band's six members could be singing at the same time, weaving different harmonies together behind the melody.
This fall, Royal Canoe will spend three-and-a-half months touring throughout North America and Europe in support of its second full-length album, Today We're Believers, which hits stores on Sept. 3. Driedger is excited to see how people respond to the album, which the band worked on for the better part of three years.
"We put a lot of thought into every tone and lyric," he says. "They're not just throwaway [songs]. They all represent really important moments in our lives."
Royal Canoe will celebrate the release of Today We're Believers with two shows in Winnipeg this week: An all ages show at the Park Theatre tonight (Thursday, Aug. 22), and an 18+ show at Union Sound Hall tomorrow (Friday, Aug. 23). For details, and to hear the band's music, visit www.royalcanoe.com.