Social entrepreneur Sarah J. Smith to spend week meeting with students and business people
The Redekop School of Business (RSB) welcomes Sarah J. Smith to Canadian Mennonite University (CMU) as its 2013 Social Entrepreneur In-Residence. Ms. Smith will spend September 23-27 mentoring students and meeting local business people to share her story, which combines business, social justice, and Biblical principles.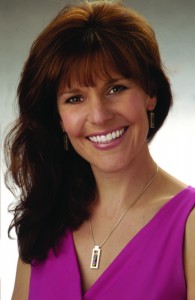 Ms. Smith, who holds a number of degrees including a Doctorate of Theology and Bachelor of Business Administration, is founder and president of Sarah's Hope Jewelry. The Wisconsin-based for-profit company was started in 2004 to fund non-profit organizations that provide small business micro-loans and training for women in the USA and developing world.
Ms. Smith's week-long visit will include a number of classroom appearances and one-on-one sessions with RSB students. Additionally, she will also be the keynote speaker at a luncheon presented by MEDA Winnipeg, scheduled for September 26 at the Notre Dame Avenue Independent Jewellers location. There she will share how her business model has helped small business owners in less developed countries overcome poverty and become viable contributors to their local communities.
"Through the combination of Sarah J. Smith's business acumen and pastoral ministries, Sarah's Hope Jewelry is a testament to the impact one individual can have on communities around the world," say RSB Director, Dr. Ray Vander Zaag. "The opportunity for our students and faculty to experience her passion for international development and business will prove there is room for social justice in a commerce environment."
For more information regarding Ms. Smith's background and a schedule of events, please visit www.cmu.ca/business.
RSB's 2012 In-Residence guest was Art DeFehr, Winnipeg-based businessman, humanitarian, and philanthropist who has bettered the lives of others in Manitoba and around the world.